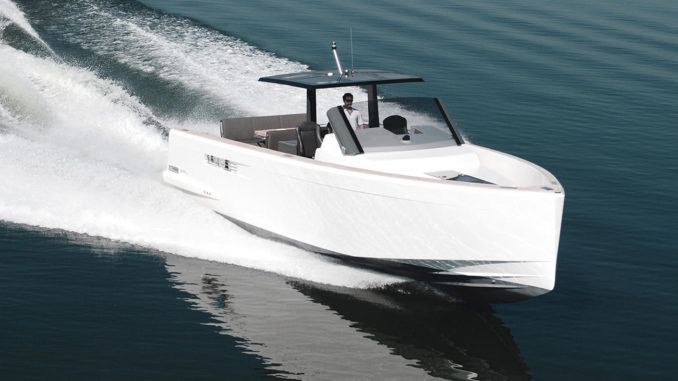 Simrad Yachting  announced a new partnership with Hanse FJORD powerboats. The partnership will see Simrad products fitted to the FJORD 52 Open, FJORD 44 Open and Coupé, FJORD 40 Open, FJORD 38 Xpress and the FJORD 36 Open or Tender. There will be two new versions of the Fjord 44 and Fjord 38 Xpress available to view on the powerboat pontoon at Southampton boat show.
The boats will be equipped with a variety of products from across the Simrad portfolio. The heart of the system will be the NSS evo3 multi-function display, featuring the SolarMAX™ HD screen, along with an unrivaled level of built‐in, easy‐to‐use functionality to enhance the FJORD owner's on‐the water experience. Wireless connectivity will also allow owners to link the display to their smartphone or tablet, offering them control from anywhere on board their boat.
"FJORD is pleased to partner with Simrad Yachting to provide our customers with the best-in-class products for their marine electronics equipment," said Florian Nierich, press manager of HanseYachts AG. "We believe in giving our customers the best available options and features in the industry, and Simrad provides the perfect combination of cutting-edge technology and ease of use that our customers desire."
FJORD 52 Open, FJORD 44 Open and Coupé, FJORD 40 Open, FJORD 38 Xpress and the FJORD 36 Open
The FJORD boats will also be kitted out with IS42 instruments boasting a colour screen designed for optimal visibility, NAIS500 fully integrated Class-B AIS transponders and 4G Broadband Radars offering a clear view of radar targets from right off the bow to 36 nautical miles away. In addition the boats will feature AP44 autopilots featuring a 4.1-inch full-colour display, intuitive operation and rotary-dial course adjustment. The AP44 autopilot systems will allow owners to reliably and accurately control heading using efficient turns, improve run times and reduce fuel consumption.
"We are really pleased to announce our partnership with FJORD," said Leif Ottosson, CEO, Navico. "Simrad Yachting are committed to delivering marine electronics that enhance time on the water and offer industry-leading features and functionality and it's great that FJORD owners will now be able to enjoy all of this on board their boats."