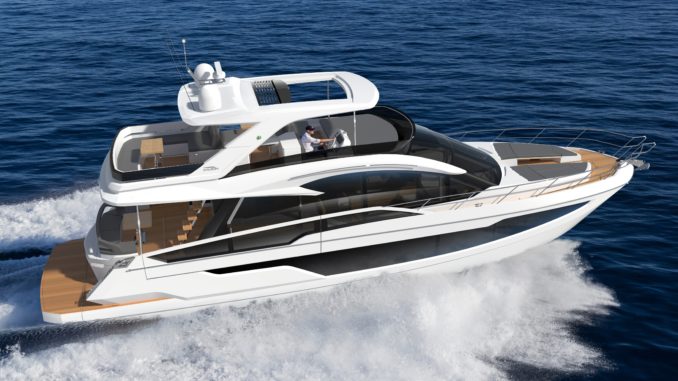 Luxury yacht and motorboat builder, Galeon, opts for Volvo Penta's D13-1000 engine as the ideal choice for its innovative new 640 Fly model. The spaciously designed yacht is being launched at the Miami International Boat Show.
Galeon's latest yacht, the 640 Fly, has been designed to provide an intelligently transformative use of space throughout its three decks, with luxury touches to appeal to families and charter enthusiasts. The Polish boatbuilder has chosen Volvo Penta's most powerful marine engine, the D13-1000, thanks to its excellent performance and superb power-to-weight ratio.
"We are very happy with the performance of the Volvo Penta D13-1000," says Grzegorz Tuszyński, managing director of Galeon. "The engine offers extremely good torque. The boat goes from stationary to planing speed in just over six seconds and to its top speed in 24 seconds – this is faster than many of our smaller boats. The light weight of the engine is also a particular highlight, as it enables us to keep the total weight of the boat to a minimum. I really believe we will be displaying one of the most innovative boats in Miami; one that's going to be a real game-changer."
Outstanding engine for an innovative yacht
Galeon, based near Gdansk in northern Poland, was founded in 1982. The company creates bold designs that combine beautiful styling and excellent performance with expert craftsmanship. The 68ft (20.8m) 640 Fly weighs 37 metric tons, has a beam of 16.4ft (5m), a draft of 4.75ft (1.45m) and can reach a speed of 28 knots.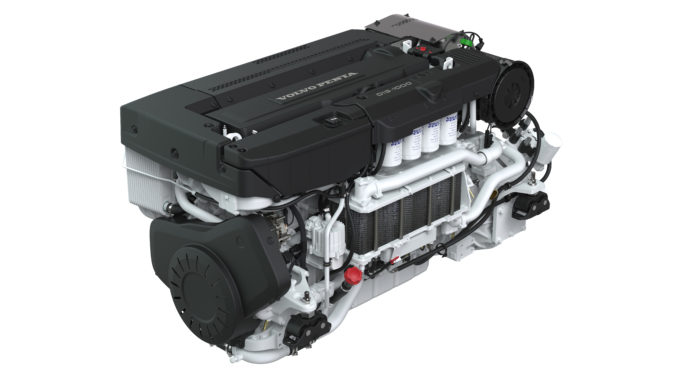 Galeon's philosophy of maximizing space to attract customers who want a luxury environment in an agile and easily maneuverable boat, is matched by Volvo Penta's ideology in offering powerful and compact engine solutions. The 640 Fly is powered by twin inboard shaft installations of Volvo Penta's D13-1000 engine.
"We have a very good, long-term relationship with Volvo Penta," says Tuszyński. "They always provide us with outstanding engines with great performance, and the Volvo D13-1000 is no exception. Galeon is growing at a rapid rate, and we plan to purchase many more engines from Volvo Penta in the future."
Milestone product
Volvo Penta's D13-1000 is the most powerful engine in its marine leisure segment. The milestone product has seen the company enter the 1000hp market for the first time, to provide higher performance, greater durability and more comfort than ever before. Volvo Penta's commitment to the yacht segment led to a major redesign of its previous 13-liter engine and drivetrain to create an outstanding product. Customers can reap the benefits of features such as new pistons, highly efficient injectors and improved cooling systems, which combine to produce 11 per cent more power than on the previous 13-liter model. The optimized power-to-weight ratio and excellent low-end torque of the D13-1000 provide incredible power on demand. With this engine, Volvo Penta is giving premium boat owners the possibility to go further and faster than ever before.