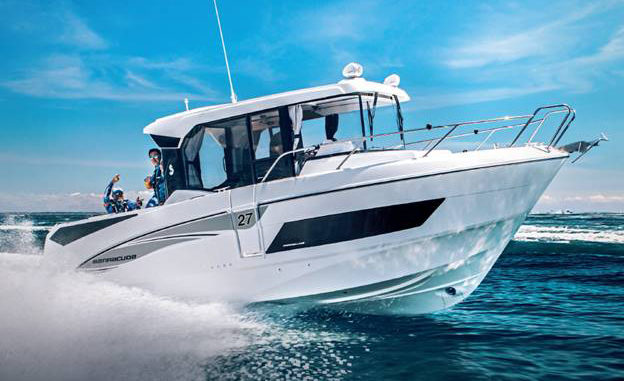 The all-new Barracuda 27 has arrived to the United States! Showcasing Beneteau's matchless expertise in truly comfortable SUV of the seas, this new outboard range featured latest innovative designs, top quality, and impressive seaworthiness. The large deck area enables the use of this boat for different tasks: exploring, diving, fishing, pleasure and fun. Announced as the star of the 2018 Barracuda Tour last spring in France, the Barracuda 27 will be launched officially at United States Powerboat Show, from October 11 to 14 2018.
FOUR SEASONS – ONE BOAT!
Our boat designs are based on the rich experience of those who love the sea. The comfort and safety on board are our main focus. The space on board is used very efficiently and profitably. Nothing draws your attention away during navigation and everything you need is within reach of your hand. Her specific hull makes her very responsive when handling, even in a rough sea.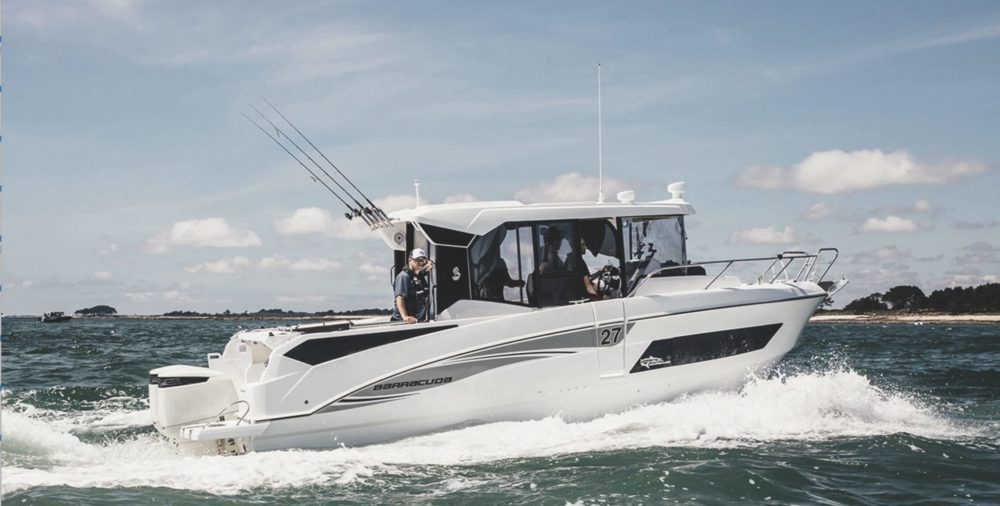 EXTREMELY COMFORTABLE INSIDE
The interior saloon has an innovative layout, with facing seats positioned lengthways, making movement easier. The galley is as functional as ever and is now equipped with a large refrigerator. With the driving station, the Barracuda 27 forges substantially ahead with a twin bench seat and a large control panel that can hold two 9" and 12" displays.
The door closing off the cabins provides safety for the co-pilot and separates the pilothouse from the other spaces. The lower deck has a large cabin and a separate shower room, as well as a mid-cabin that can be used either as stowage space or for an extra double berth.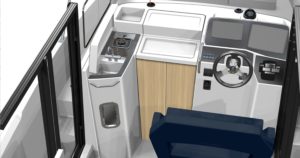 SMART-COMMUTER
With a 4-seat forward lounge, large walkways and protecting pulpits, the Barracuda 27 delivers a high level of safety and comfort. Equipped with the latest Airstep® hull, she ensures superior seaworthiness, better steering capabilities and high fuel efficiency. Powered by two engines delivering up to 500 HP, two fuel tanks are available (106 or 159 US Gallons) on the Barracuda 27. You can confidently put out to sea with up to 10 people on board (Category B6/C10).
With highly functional fittings, the new Barracuda 27 marks another milestone in terms of perceived quality. Announced with an ever competitive price, she has all it takes to maintain a gold standard in countries with robust versatile boats.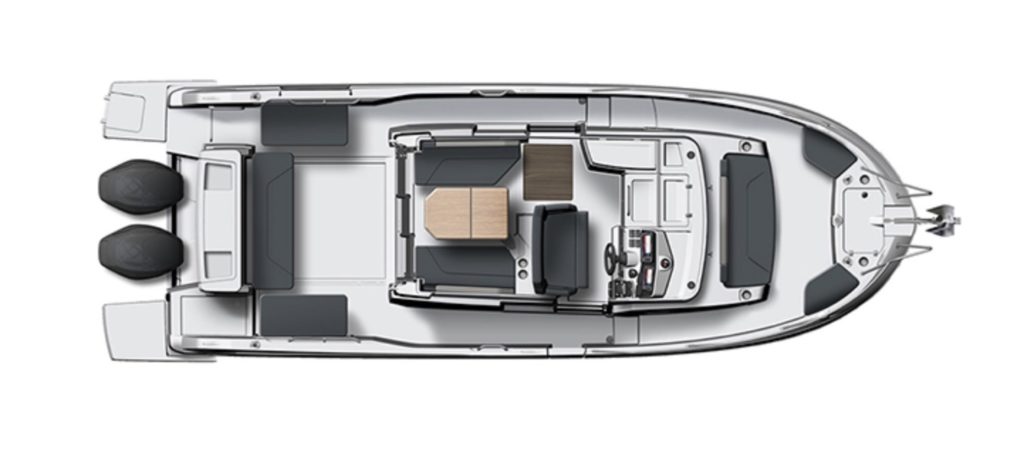 Specifications
LENGTH OVER ALL                     
27'1″
HULL LENGTH                              
26'2″
HULL BEAM                                   
9'8″
LIGHT DISPLACEMENT             
8,377 lbs
FUEL TANK CAPACITY               
2 x 53 US Gal
FRESH WATER CAPACITY        
42 US Gal
MAX ENGINE POWER (HP)       
2 x 250 HP
PROPULSION                                 
Outboard
CE CERTIFICATION                     
B6/C10