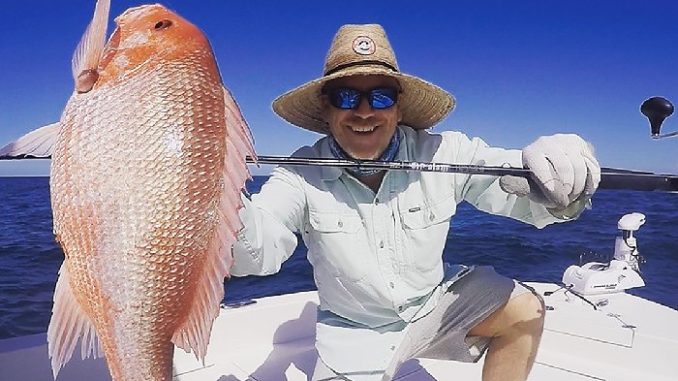 By Joe Balog
What kind of fish breaks eighty-pound line? I asked myself that question repeatedly as I rigged my bottom-fishing rod. For the third time in twenty minutes, I had my butt kicked by a fish that I falsely assumed would be no match for my heavy tackle. This was starting to get old.
A freshwater transplant, I had dipped my toe into the saltwater world after relocating to Florida and purchasing a beauty of a bay boat. Fish tacos and snapper ceviche were soon to be on the menu, or so I thought. Yet, after nearly a full day of fishing, all I had in the fish box was one small triggerfish.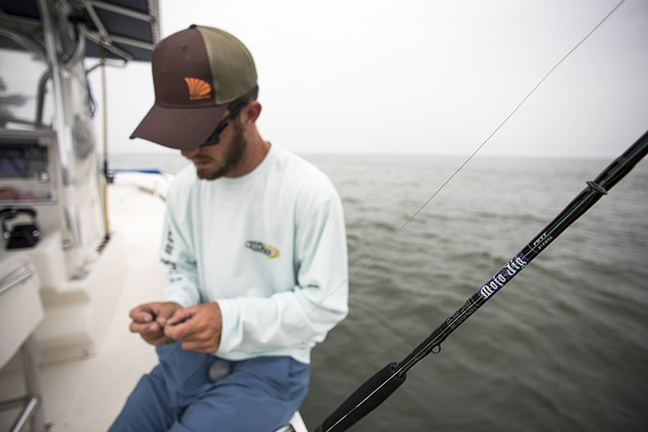 For the first time in several years, the waters off the East Coast of Florida were hosting a red snapper season, and I planned to get my share of the now plentiful fish. The problem was, I couldn't get them in the boat.
Dejected, I went home a lot lighter on sinkers; but no less determined.
That evening, I went through my gear. Hooks were stout and sharp, offering no flex, and my line was the heaviest I could find. Sinkers, swivels, knots – everything terminal was flawless. Going one step further, I studied my rods and reels.
Previously, I upgraded to St. Croix's Mojo Jig series (Conventional and Spinning) for this style of fishing, and paired them with heavy-duty reels. Remarkably stout despite their light weight, I was certain the Mojos could handle anything a snapper could throw their way. I later learned they could, if I knew how to use them.
The following day again found me on the snapper grounds, accompanied by my wife, Kim, and friends. The bite was on, and Kim quickly hooked up. Her drag screamed as a big fish surged for the bottom. Immediately upon reaching it, Kim's line broke. Disappointment again filled the boat.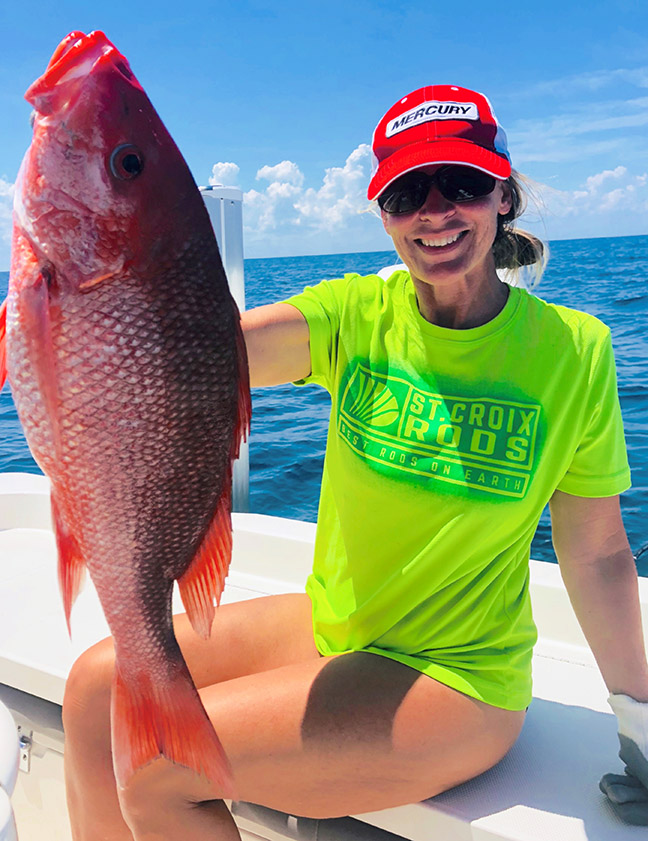 Upon inspection of the heavy line, I found it cleanly sliced in two, as if by a pair of shears. Then, it dawned on me.
I quickly grabbed my rod, cranked the drag down as tight as it would go, and dropped down a fresh pinfish. Handing it off the Kim, I could see an instant strike. "Let him have it a minute, then wind as hard as you can," I instructed. "And, whatever you do, don't let him get back to the bottom."
Kim grunted under the strain of the heavy fish. Playing it like a pro, she pressed her tackle to the max. When the big fish surged, Kim pulled back twice as hard. I added a third hand for even more leverage. To our delight, the fifteen-pound red snapper soon surfaced, was quickly netted, and hit the fish box flopping.
Again inspecting the line, I found it as perfect as when I tied it. We were on to something.
For the remainder of the day, and throughout the weekend, we would boat nearly every red snapper we hooked from that point on. Ten, fifteen, even twenty-pound fish came over the gunnels at a regular rate.
Reflecting, my lack of saltwater experience was to blame for our initial break-offs. Sure, I'd fished around line-shredding structures in freshwater; docks and rocks, for example. But nothing could prepare me for the damage inflicted by a sharp ocean reef.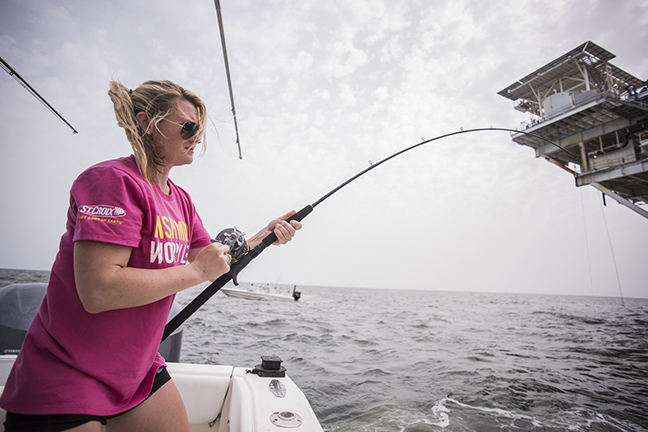 When fishing such structures, it's absolutely imperative to win the first twenty seconds of the fight. Grouper and snapper instinctively know that, when in trouble, their best chance is to get to the bottom. It's incredible how hard even a moderate-sized ocean dweller can pull when compared to a freshwater fish; a life in heavy ocean currents adding to their stamina.
Since my inaugural trip, I've used the Mojo Jig series to wrestle some real brutes from the depths below. Like all St. Croix rods, technology is at the forefront in this series, as they're built using Advanced Reinforcing Technology; a carbon fiber material that adds incredible strength to the rod by keeping it true to form under the heaviest strain.
I've found the conventional Mojo Jig models to be perfect (I can't get away from my 5'8" extra-heavy no matter what I'm fishing for), but Kim prefers the spinning models. She finds that, with her size and body frame, she gets more leverage by having the rod under her forearm when horsing a strong fish.
In any case, mark my words: the first twenty seconds is the key. Remember that, and you'll save a bundle on sinkers.
You may also like:
How to Catch Sheepshead Easily
How Captain Art Sapp Uses Top Technology for fishing