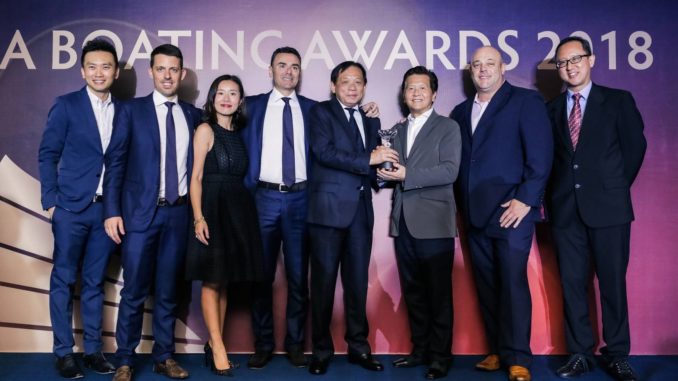 Azimut Yachts picked up their second consecutive award for 'Best Brand Presence in Asia' at the prestigious Asia Boating Awards 2018, held ahead of the Singapore Yacht Show 2018.
Created by Asia-Pacific Boating and China Boating magazines in 2005, the annual Asia Boating Awards are the most renowned yachting awards in Asia and across the world. The awards bring together the best in the industry and celebrate the success of the various brands, builders, marina and clubs, companies and individuals.
The 'Best Brand Presence in Asia' award celebrates Azimut as a company that has done the most to build its brand in Asia through creative advertising and event sponsorship, developing growth and improving brand recognition in the region and beyond.
An Extensive Use of Carbon Fiber
On the win, CEO Marco Valle says, "We're proud that Azimut Yachts has been recognised for our strong presence in the region. This is a testament to our excellent team and network that has worked hard to increase brand visibility and more importantly make sure that each customer feels valued and well taken care of. Asia is an extremely significant market for us, and we look forward to continued growth for many years to come."
Across collections, Azimut yachts are renowned for elegance, sleek design, harmonious lines, responsive handling and utmost comfort, combined with unexpected space.  As a brand Azimut consistently sets the trend in the wide body segment, due to its revolutionary carbon fiber construction.  The extensive use of carbon fiber, which Azimut has pioneered in all its collections, makes it possible to extend the space available without increasing the yacht's weight, resulting in better performance in the water and unprecedented comfort onboard.
This award comes on the back of multiple award wins for design and research and development for Azimut Yachts in 2018.
Read More About Azimut
Technorib Presents Pirelli J33 Azimut Special Edition
Azimut Atlantis 51 Worldwide Premiere At The 2018 Boot Düsseldorf
PREMIERE OF THE AZIMUT S7 AT THE FORT LAUDERDALE BOAT SHOW