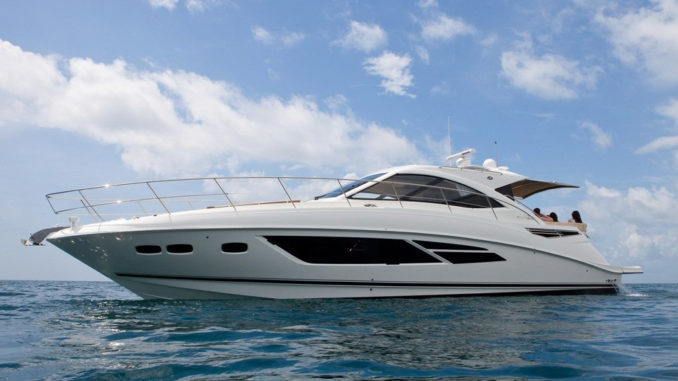 Sea Ray will unveil a series of thrilling new models at the Fort Lauderdale International Boat Show. With breakthroughs spanning the line-up, from versatile new sport boat and sport cruiser propulsion options, to an exciting new flybridge model, to a limited-release edition of an iconic sport yacht, Sea Ray's offerings will satisfy a wide variety of boaters.
"We're thrilled to kick off the 2018 Model Year with a series of fantastic product introductions, and special first look previews in Fort Lauderdale," said Scott Ward, Sea Ray president and general manager of Sea Ray Sport Yachts and Yachts. "This important show draws valued customers, media and industry representatives from around the world. It's the perfect venue in which to celebrate our newest models."
The following Sea Ray models will appear at the Fort Lauderdale International Boat Show:
• SLX 400 OUTBOARD — Sea Ray will host a special "First Look" preview of this premium luxury day boat, which brings all the benefits of outboard power to the dynamic, award-winning SLX 400, a.k.a. "The Entertainer." Notable features include the game-changing starboard fold-down swim terrace — one of many design breakthroughs that led to the SLX 400's Innovation Award win earlier this year — and the expansive cockpit and transom entertainment zones.
A best-in-class seating layout has room for 22 passengers, while a generous cabin offers a comfortable place to escape the elements or spend the night. And with technology including the Joystick Piloting for Outboards (JPO) system by Mercury Marine®, for effortless docking and turn-on-a-dime maneuvering; QuietRide™, for dramatically reduced noise, vibration and harshness; and an advanced Digital Dash helm, the SLX 400 Outboard delivers incredible performance and seamless operation, all powered by triple Mercury® Verado® outboards.
• SUNDANCER 320 OUTBOARD — Also appearing in a special First Look engagement comes the Sundancer 320 Outboard. Following the success of the Sundancer 320, introduced in February, the 320 Outboard continues Sea Ray's bold new vision for sport cruising by blending the values of a cruiser and a bowrider with the versatility and efficient performance of triple Mercury Marine® outboard engines. From the spacious open bow with robust lounge seating, to the generous cockpit with wet bar, to the beautifully designed cabin with sleeping accommodations for four, the Sundancer 320 Outboard offers the best of both worlds — day boating and cabin cruising. And with a beautifully designed transom area and full swim platform, boaters enjoy the benefits of outboard power with no trade-offs in terms of space.
• FLY 520 — Making its official World Premiere at the Fort Lauderdale show, Sea Ray's new Fly 520 leverages the power of light through design choices that maximize views and minimize obstruction. Evolutionary styling and contemporary materials feel bright and airy, while wide-open, blended-purpose spaces with ample windows invite the outside in. Notably, the glass-enclosed bridge staircase and open risers allow light to flow through the steps even as this staircase ties the bridge cohesively into the rest of the yacht.
Superior attention to detail and craftsmanship can be found in everything from the precision-engineered hull, manufactured at Sea Ray's state-of-the-art Palm Coast (Fla.) facility, to the engines and mechanical compartments, which are easier than ever to access and service. Additionally, the detailing of the interior features new wood selections, expertly crafted and grain matched throughout to elevate the yacht's overall appeal.
The entirety of the yacht is geared toward effortless entertaining and luxurious livability, with a well-equipped flybridge; a large hydraulic swim platform with steps descending into the water; three inviting staterooms; and all the comforts one has come to expect of a Sea Ray yacht. In the cockpit, Sea Ray has devised an ingenious seating solution that allows for maximum versatility: the aft lounge seat with convertible backrest travels forward and aft to create multiple seating configurations, facing into the cockpit from the aft position or brought forward to overlook the swim platform. An optional Gourmet Center adds a grill and large storage drawer in the transom, further enhancing sociability. Superior performance, stability and handling, as well as the joystick propulsion system with Zeus® pods, make yachting a joy. The yacht's overall effect is more than just bright — it's brilliant.
• SUNDANCER 510 SIGNATURE — Also making its World Premiere, the Sundancer 510 Signature is a limited edition of Sea Ray's best-selling Sundancer 510, featuring upgraded materials and select design changes, all geared toward delivering a truly premium yachting experience.

Made in America, with characteristic Sea Ray craftsmanship and iconic Sundancer lines, the Sundancer 510 Signature features an enhanced bow lounge sunpad, new wood and Silestone® finishes, a large hydraulic swim platform with Stairway to the Sea steps, and an exclusive "Signature" paint scheme. Gracious staterooms, sunlit interiors and upgraded performance courtesy of the upgraded engine package, standard on this model, round out this unique offering. "Founder C.N. Ray was known to say, 'If it has my name on it, it has to be the best.' The 510 Signature reflects this heritage and demonstrates Sea Ray's longstanding commitment to excellence," said Ward. "C.N. would be proud to see it bear his name."
In addition to the above, the following Sea Ray models will also be on display: L650 Fly, L590 Fly, L550 Fly, L550, Sundancer 460, Fly 400, Sundancer 350 Coupe, SLX 350 Outboard, SLX 310 Outboard, SDX 290 Outboard, and SDX 270 Outboard.
"Sea Ray continues to raise the bar for design, performance and craftsmanship," said Brad Anderson, president and general manager of Sea Ray Sport Boats and Sport Cruisers. "The coming model year line-up will demonstrate our commitment to elevating the boating experience for our customers."