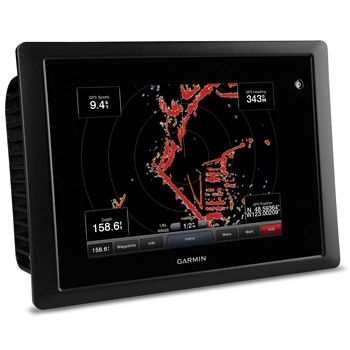 Garmin International is named Manufacturer of the Year for the third consecutive year, an honor given to the most recognized company in the marine electronics field for its support of products in the field, voted on by members of the National Marine Electronics Association (NMEA). The company also dominated the NMEA's Product of Excellence Awards with eight wins in the following categories: radar, autopilot, multi-function display (MFD), mobile application—aid to navigation, mobile application—utility, fishfinder, AIS, and multimedia entertainment. The honors were announced at the prestigious 2017 NMEA Convention held last week in Bellevue, Wash., Sept. 26-28.
"As the world's leading marine electronics manufacturer1, we're honored to again be recognized by the industry for our continued commitment to design, manufacture, sell and support industry-leading products," said Dan Bartel, vice president global consumer sales. "We are incredibly proud and humbled by these recognitions and we look forward to continuing to move the marine industry forward by delivering first-class hardware, software and support."
For the second year in a row, Garmin won the MFD category for its GPSMAP 8624, a 24-inch all-in-one touchscreen chartplotter that boasts the highest screen resolution on the market. The GPSMAP 8624 comes preloaded with both BlueChart® g2 coastal and LakeVü HD inland maps, and is fully network compatible for support of radar, autopilot, instruments, multiple screens, sensors, remote sonar modules, digital switching, thermal cameras, and more.
FUSION, a Garmin brand, also received consecutive honors in the multimedia entertainment category, this year for the AV755 Marine Stereo System, a NMEA 2000-certified marine-ready DVD/CD player with Bluetooth® connectivity that can be controlled from a compatible MFD.
For five years running, Garmin received the top spot in the autopilot category, this year for its
GHP ReactorTM Hydraulic Autopilot with SmartPump. The GHP Reactor was Garmin's first recreational autopilot system to utilize AHRS technology and boasts the usability, installation flexibility, and many other features that prove to be valuable for any vessel.
The new FantomTM 24 radome with MotionScopeTM technology took top honors in the radar category. The Fantom radars use Doppler processing and have revolutionized the way mariners use radar, as its MotionScope technology instantly detects and highlights targets in different colors as they move toward or away from the boat, helping to identify collision threats faster.
Smartphone applications are essential tools for mariners in today's connected world, and Garmin's mobile app offerings were once again recognized. Garmin BlueChart Mobile, a route planning application with streaming weather capabilities, was named the best mobile application aid to navigation; and Garmin HelmTM, an application that allows mariners to view and control their chartplotter from a smartphone or tablet, won for mobile application utility.
Other Garmin products honored include the GSDTM 26 black-box sounder with broadband spread-spectrum signal technology in the fishfinder category, and the AIS 600, a blackbox transceiver that sends and receives vessel information and AIS target data in the AIS category.
Garmin's portfolio includes some of the industry's most sophisticated chartplotters and touchscreen multifunction displays, sonar technology, high-definition radar, autopilots, high-resolution mapping, sailing instrumentation and other products and services that are known for innovation, reliability and ease-of-use.
For decades, Garmin has pioneered new GPS navigation and wireless devices and applications that are designed for people who live an active lifestyle. Garmin serves five primary business units, including automotive, aviation, fitness, marine, and outdoor recreation. For more information, visit Garmin's virtual pressroom at garmin.com/newsroom, contact the Media Relations department at 913-397-8200, or follow us at facebook.com/garmin, twitter.com/garmin, or youtube.com/garmin.