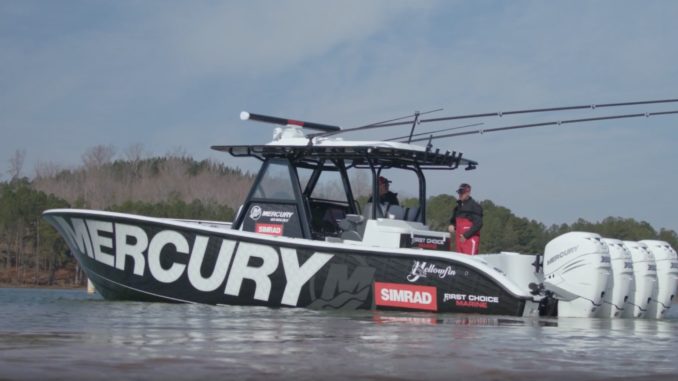 Mercury Marine announced the launch of its Go Boldly Tour at the 2018 Bassmaster Classic, which begins today at the TD Convention Center and on Lake Hartwell. The Tour will celebrate shared enthusiasm for, and enjoyment of, the boating and fishing lifestyle by presenting participants with unforgettable experiences.
"We set out to interact with boaters and expose them to unique brand experiences," said Michelle Dauchy, Mercury Marine chief marketing officer. "Beginning today at the Bassmaster Classic and extending throughout the year, we'll be on the lookout for individuals who demonstrate their exuberance for boating and fishing, and we'll surprise them with an invitation to join us for a memorable experience."
According to Dauchy, Mercury will handpick boating and fishing enthusiasts who will receive an opportunity to participate in a unique experience as part of the Go Boldly Tour. Mercury will select these individuals based on their interactions with Mercury via social media, at Mercury exhibits and on test‑ride boats demonstrating the performance of Mercury outboard engines. Throughout the year, Mercury's test rides at boat shows and other events will include a variety of boats equipped with engines representing Mercury's brand‑new lineup of 3.4‑liter V‑6 outboards, which combine quick acceleration, light weight, and fuel economy.
"Boating is fun and we want to surprise and delight consumers with memorable moments that can be shared socially," said Dauchy. "Engaging with consumers on various social networks, providing them unique experiences and then sharing those experiences on social media will help create brand advocacy and buzz around the brand."
Individuals selected to receive a surprise reward as part of the Go Boldly Tour might receive a gift or a unique experience to enjoy individually or as part of a group. "We're keeping the exact nature of the rewards close to the vest for now, to preserve the surprise," Dauchy said. "The goal is to capture Mercury's 'Go Boldly' spirit with experiences that are truly memorable."