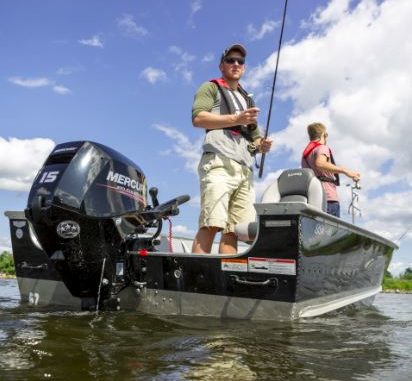 Mercury  introduces all-new 15/20hp EFI FourStroke outboard & the world's first portable outboard tiller handle with ambidextrous control
Mercury Marine, the world leader in marine propulsion and technology, announces the introduction of its ultra-lightweight and reliable 15/20hp EFI FourStroke outboard platform.  In addition, Mercury is proud to launch its innovative new Multi-Function Tiller Handle assembly designed for the 15/20hp EFI FourStroke platform – the world's first portable outboard tiller that offers ambidextrous operation
Mercury's new Multi-Function Tiller Handle is an ergonomically enhanced control for the company's new 15/20hp EFI FourStroke outboard lineup.  This lightweight portable outboard platform starts at just 99 lbs. (45 kg.), and is 11 lbs. (5 kg.) lighter than the platform it replaces in Mercury's outboard line.
New outboard platform sets a new bar in the marine industry
Designed for anglers, recreational family boaters, and commercial operators, Mercury's new outboard features battery-free EFI for fast, reliable starting, instant throttle response and better overall performance; is among the lightest on the market improving acceleration, top speed and handling; and delivers exceptional fuel economy.
The ProKicker trolling engine comes standard with a high thrust 4-blade prop, power tilt and Mercury's patented "kicker straps" that automatically center and lock the outboard in the tilt up position during high speed running to protect the clamp bracket from impact. 
Like its siblings in the Mercury FourStroke outboard portfolio, the new 15/20hp EFI also is designed with ease of maintenance in mind. Its clean, no-drip, no-spill oil drain system, fresh water flushing attachment, water separating fuel filter and the maintenance guide under cowl make this one of the most user-friendly outboards on the water today.
The all-new Mercury's 15/20hp EFI FourStroke outboard is available in Mercury, Mercury ProKicker and Sea Pro commercial variations. 
Multi-Function Tiller Handle is first-of-its kind
Traditionally, tiller handles are mounted on the port side of outboard motors, intended for left-hand operation. However, Mercury Marine's user research found that a significant percentage of boaters prefer to control the tiller handle with their right hand.  Mercury's new center mounted tiller is adjustable to optimize left- or right-hand control.  Using hand tools, boaters can adjust the tiller arm's horizontal angle 18° port and starboard from center, at 6° increments.  The throttle grip rotation is also reversible to compliment the tiller angle position to provide a more intuitive and comfortable boating experience, regardless of driving-hand preference.
Today, boaters lack the ability to adjust a tiller's vertical operating angle. Mercury's user research showed that most boaters desire this capability, because boat layouts and body frames vary making tillers difficult to reach in some cases.  In response, Mercury designed an adjustable down stop that allows boaters to quickly and easily change the vertical operating angle of their tiller handle between -5° and +10° for easy reach and relaxed operation.  Mercury also designed a tilt lock feature that locks the tiller angle at 73°. This feature is desirable for both fishing and trailering, positioning the tiller out of the way.
Intuitive touch points on the Multi-Function Tiller Handle include the forward mounted shift lever and stop button integrated into the throttle grip for easy reach. The throttle friction knob, with its large, soft-touch rubber over mold is easy to grip. It applies friction to throttle rotation, allowing boaters to easily dial-in their desired speed / throttle response. Power Tilt, on select models, allows for effortless engine tilting in shallow water or when trailering.
The engine will make its U.S. debut at the Minneapolis Boat Show in January 2018 as well as its debut in Canada at the Toronto Boat Show, also in January 2018.