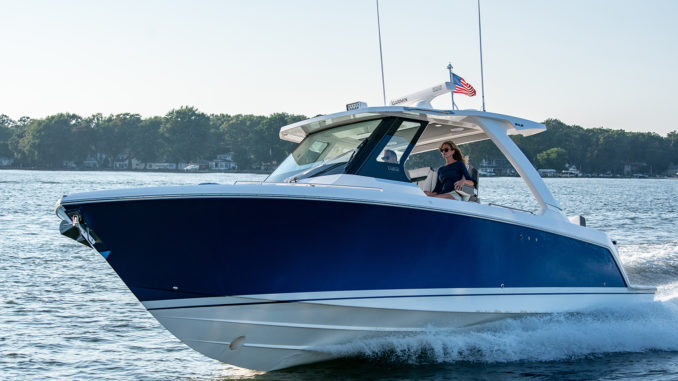 Mercury Marine and Tiara Sport are pleased to announce that Mercury's 400hp Verado outboard engines will be offered on three Tiara Sport models, the 34LX, 34LS and 38LS.  Each model will also be equipped with Joystick Piloting for Outboards as well as Mercury's Skyhook technology.
"Mercury and Tiara Sport have completed the testing and integration of this outboard system to offer our customers a premium outboard experience with quality, speed, performance and handling, in addition to the quiet and feature rich Verado offering," said Dave O'Connell, Vice President of Sales and Marketing, Tiara Sport.
The engine packages are available immediately for consumers and will be on display at Tiara's dealer meeting in August as well as the 2019 Ft. Lauderdale International Boat Show.
"We are thrilled to partner with Tiara Sport to offer consumers Mercury's brand-new 400hp Verado as well as our industry leading connectivity package," said Randy Caruana, Mercury Marine vice president of sales for the Americas and Asia Pacific. "Tiara is an elite brand and this partnership gives both companies the opportunity to provide consumers a premium boat package with all the benefits of a 400hp Verado – giving boaters the durability and reliability they expect from both Mercury and Tiara."
The Tiara Sport/Mercury Engine Package on all three models includes the following:
• Mercury Comp Series Enertia ECO Propellers
• Joystick Piloting
• Skyhook with Advanced Features
• Autopilot
• Mercury Cold Fusion White
• Digital Throttle & Shift (DTS)
• Vessel View 7-inch LCD Touchscreen Display
• Active Trim
• Electro-hydraulic Power Steering