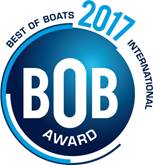 "And the winner is…". On 23 November, at BOAT & FUN BERLIN 2017, the winners of the Best of Boats Awards will be announced. That is when, in the presence of representatives of international boatbuilders, one of the biggest and best-known prize-giving events for motorboats in Europe will take place. The red carpet will be rolled out for 22 finalists who came out ahead of their competitors and were nominated in five categories for the finals. The announcement of the finalists will take place at the Cannes Yachting Festival, which starts today.

Over the course of this year's boating season the judges of the Best of Boats Awards tried out 585 new boats from 22 countries in order to put as many new and interesting 2017 models as possible to the test. Afterwards the following boats were selected for the finals of the Best of Boats Awards 2017:
Best for Beginners
AMT 175 BR (FIN)
Faster 625 CC (FIN)
Finnmaster Husky R5 (FIN)
Sea Ray SPX 230 (USA)
Best for Fishing
Alucat W8 (FIN)
Jeanneau Merry Fisher 795 Marlin (FRA)
Silver Shark BRX (FIN)
Wellcraft 222 Fisherman (USA)
Best for Family
Bella 620 C (FIN)
Glastron GS 259 (USA)
Jeanneau Leader 33 (FRA)
Sea Ray Sundancer 320 (USA)
Best for Fun
B1 St. Tropez 6 (GER)
Heyday WT-1 (USA)
Invictus 370 GT (ITA)
Marian Laguna 760 (AUT)
Nordkapp Avant 705 (NOR)
Parker 750/Askeladden C76 (POL)
Best for Travel
Bavaria E34 Sedan (GER)
Delphia BluEscape 1200 (POL)
Fountaine Pajot MY 44 (FRA)
Monte Carlo 6S (FRA)
The selection panel, made up of 17 experienced boat magazine journalists, represents 15 nations as well as all of Europe's main markets and sailing regions: Austria, Croatia, Finland, France, Germany, Greece, Italy, Netherlands, Poland, Russia, Slovenia, Spain, Sweden, the UK, and Ukraine.