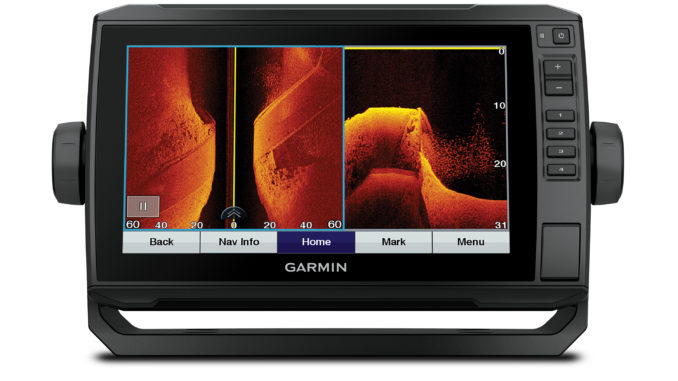 Garmin International announced Ultra High-Definition scanning sonar, a new technology that uses a higher frequency range to deliver stunningly clear images and detail of structure and fish below and around the boat at greater depths. Clarity and detail of fish, rocks, brush piles, structure and beyond are redefined with this new scanning sonar system that includes Ultra High-Definition ClearVü and Ultra High-Definition SideVü sonar with frequencies ranging from .8 to 1.2 MHz. The superior ClearVü image clarity lets anglers see up to 200 feet below the boat – much deeper than other high-frequency scanning sonars – so fish really have nowhere to hide. 

"Our Ultra High-Definition scanning sonar will give inland and nearshore anglers the greatest detail available from a Garmin system to date," said Dan Bartel, Garmin vice president of global consumer sales. "It's available as a standalone system that's compatible with all of our current GPSMAP and select ECHOMAP Plus multi-function displays, further proving our continued commitment to offering the best sonar technology in the market to both our existing and future customers." 
Clear Images at Depths of Up to 200 Feet
Scanning sonar is redefined with Ultra High-Definition as it delivers greater resolution by putting more power on the targets with a higher frequency range than before. To see what's below the boat, Ultra High-Definition ClearVü scans with a downward-facing element that provides clear images at depths of up to 200 feet. For a detailed look at what's around the boat, Ultra-High Definition SideVü shows clear images of structure and fish off to the sides of the boat. Imagery from the Ultra High-Definition system can be shared seamlessly across multiple networked displays so anglers can easily see the information they need at a glance from different locations on the boat based on preference or the fishing situation. Using the included extra network expander on the GCV™ 20 sonar black box, Panoptix™ all-seeing sonar can also be distributed to multiple networked displays. 
The Ultra High-Definition scanning sonar system includes an easy-to-install, networkable GCV 20 sonar black box, a GT34UHD transducer and both transom and trolling motor mounts, and is expected to be available in Q2 2018 with a suggested retail price of $599.99. It's compatible with the GPSMAP 8400/8600, GPSMAP 7400/7600, GPSMAP 10×2/12×2, GPSMAP 12×2/12x2xsv Touch and GPSMAP 7×2/9×2 series chartplotters, and the 7- and 9-inch ECHOMAP Plus combo series.    
Manufacturer of the Year for the third consecutive year by the NMEA
Garmin was recently named Manufacturer of the Year for the third consecutive year by the NMEA, an honor given to the most recognized marine electronics company for support of products in the field. Garmin's portfolio includes some of the industry's most sophisticated chartplotters and touchscreen multifunction displays, sonar technology, high-definition radar, autopilots, high-resolution mapping, sailing instrumentation, audio, entertainment and other products and services that are known for innovation, reliability, and ease-of-use. Other Garmin marine brands include FUSION Entertainment, and Navionics, a premier supplier of electronic navigation charts.
For decades, Garmin has pioneered new GPS navigation and wireless devices and applications that are designed for people who live an active lifestyle. Garmin serves five primary business units, including automotive, aviation, fitness, marine, and outdoor recreation.
For more information, please visit www.garmin.com/newmarine.
Pricing
The GT34UHD-TH is available with a suggested retail price of  $799.99 for a single transducer,
The GT34UHD-THP includes two transducers for $1249.99.