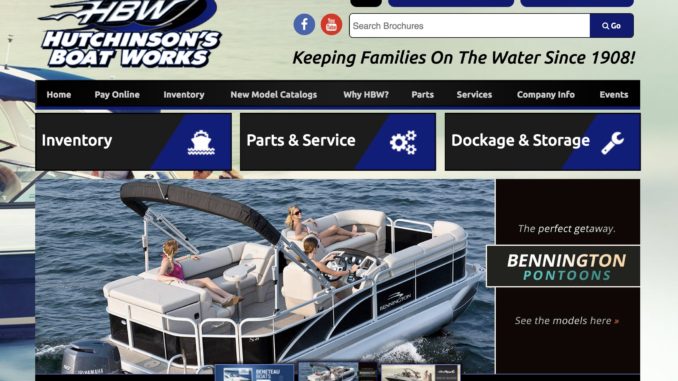 Beneteau America announced the appointment of a new dealership: Hutchinson's Boat Works, Inc (HBW) as their exclusive Beneteau powerboats dealer in upstate New York. They will offer the different Beneteau ranges like Gran Turismo, Monte Carlo, Swift Trawler and Antares.
Hutchinson's is a third generation business with spectacular business principals and a great family team.  As one of the of the oldest active Sea Ray dealers in the world, the partnership with Beneteau is a careful methodical step for HBW.  "This partnership is the most important thing that has happened to the company since 1967 when we became a Sea Ray dealer" according to Mark LaLonde, President of Hutchinson's Boat Works. "We look forward to debuting the Gran Turismo 40 at the Central New York Boat Show in Syracuse, NY Feb. 14 – 17, 2019."
"Hutchinson's Boat Works is another great all American dealership to join our global dealer network. We look forward to many years of prosperous business together" adds Jean-Francois Lair, Director of Sales at Beneteau America.
About Beneteau
The French brand, founded in 1884, builds a comprehensive range of sailing yachts and powerboats available through its worldwide dealer network. For more than 130 years, Beneteau has pioneered advances in architecture, design, technology, materials, processes, production and services. From high-performing one designs for top-level racing to comfortable and elegant cruising yachts, Beneteau's sailing yachts and powerboats are famous worldwide for their innovation, quality, and seaworthiness.
About Hutchinson
They are a 4th generation family business (started in 1908).  They have a Marina with Sales, Service, Storage and Dockage.  They have been a Sea Ray Dealer since 1967 and a Bennington Pontoon Boats since 2011. They offer a well-equipped Marine Store and Fuel Dock with Pumpout Station.  Technicians are sent for training yearly.    They are located in the heart of the Thousand Islands on the St. Lawrence River in northern New York, bordering with Canada.