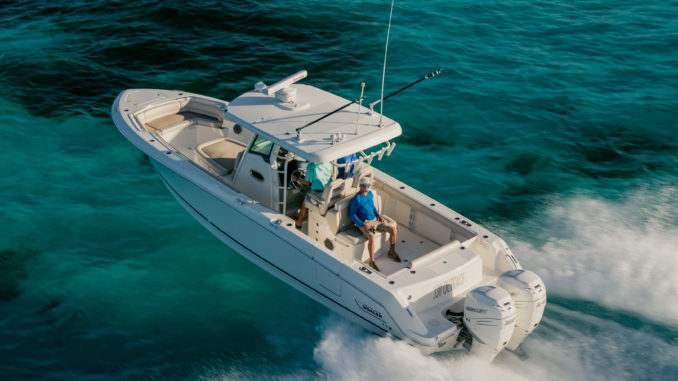 By Dominique SALANDRE – Photos DR and author
The Ultimate Open!
Key Features
L.O.A : 33'1" / 10,08 m
Beam 10'2" / 3,10 m
Maximum Horsepower : 700 hp
Things to remember
An intermediate model in a Boston Whaler Outrage range is designed for fishing and for family day cruises. It is very efficient and very safe on the water and performs well. It comes with very complete equipment, it is very well made and remarkably finished.
Part of the Outrage series, the 330, offers just about everything that made other models of the family successful. At the end, we have a very accomplished boat, full of possibilities, but which keeps the Boston Whaler spirit.
Times are changing. If a few years ago a 33-foot open boat was a monster, it is now found in the mid-range, at least for the American shipyards. Boston Whaler has well anticipated this movement by renewing its series, Outrage, with now a 42-foot flagship. The 330 Outrage takes advantage of the experience gained from the other models of the family. Big enough to sail offshore, it keeps reasonable dimensions to be carried out alone and to be towed, in countries with less restriction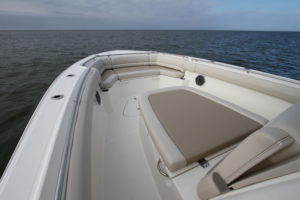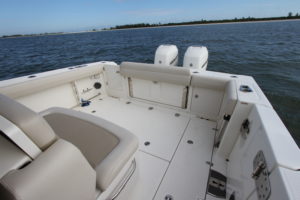 As the 350 Outrage, the 330 follow has a line very tight and conquering prow overhanging a sharp bow (23 °). Belted by a serious bilge, the hull, in the lower part, exhibits two other prominent strakes that support guidance and grip. The profile softens slightly on the back to provide softness and stability. This deep V is very well drawn, but coming from Boston Whaler, it's not a surprise. Designed to face heavy weather, this boat also has a fairly high deck line for maximum passenger protection. The mass distribution is perfect and the general balance is simply remarkable.
With 33'01'' overall and 9 000 Lbs empty, the 330 Outrage has no problem to impose itself in the waves, provided that there is necessary power. Approved up to 2 x 350 hp, it's exactly with this configuration that we tested it. With this power, the Boston Whaler is swift. 7.3 seconds to plane is indeed a very good result for a 11 000 lbs boat in running order. Another positive point is that the boat doesn't nose up as some other open boats and the captain keeps an optimal visibility while being well protected behind the console windshield. The 330 is also easy to adjust with a well-arranged trim. Once in the lines, the boat is very comfortable and nothing seems to disturb it.
But the Boston is not only a "wave breaker," it is also very easy to steer through a perfect balance, a gentle and precise direction and a completely controlled list. In the curves, he leans on his bilge and then leaves as if nothing had happened. By pushing the handle a little bit, we quickly reach more than 53 mph (46 knots) staying safe. Of course, we can content ourselves with less, but not to go below 2 x 250 hp to keep the dynamism of the craft.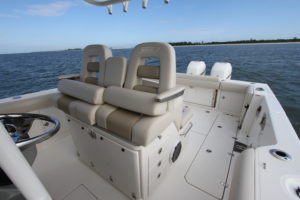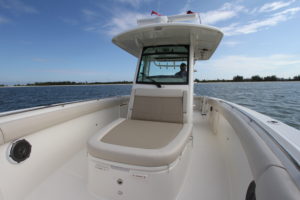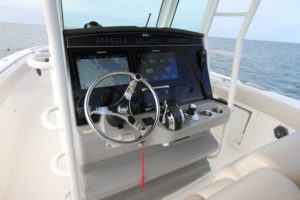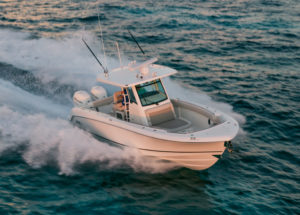 Fishing and family drive
Even if it still has a fishing DNA, the 330 Outrage also offers a level of comfort able to satisfy a family outing. The triangle of prow includes a beautiful bench with storage underneath. Facing him, the large seat, located on the front of the console, also serves as a "lounge chair" with armrests that can also be used for sunbathing. It also hides a vast volume of storage with a location for diving bottles or buckets. Finally, between the two seats, it's possible to install a table, just on the floor storage cover.
In the rear part, the vast cockpit hosts a large compartment, two large fish tanks and a folding bench. On the port side, the 330 Outrage offer a side door, a perfect solution for swimming, boarding or to pull up a nice catch. On the back of the leaning-post, a comfortable bench turns into a table by tilting the backrest, it's rather clever. Unfortunately, the seat is a little bit high. In addition, it's possible to choose a leaning-post with a cooler and an outdoor kitchen which makes the Boston Whaler even more family oriented.
In the center of the deck, the console offers a generous volume with a large windscreen and three side windows for a maximal protection. The dashboard is, as always, a model of the kind with lots of room and a perfect layout for controls, switches or electronic screens. This space also includes cup holders, a closed glove compartment or a footrest and even a hinged board for people who are a little short. Both seats are adjustable (leaning-post or seated), with armrests, and under all of that, they have a block containing drawers on port and a refrigerator on starboard.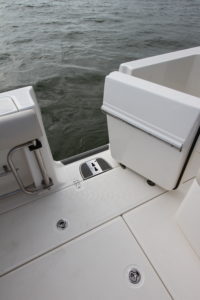 It remains the cabin, cleverly housed inside the console and which offers a toilet, a sink and several storage, all with 5'8'' height. It's really pity that there is not a version using the front part to offer enough space to sleep in the cabin.
Fishing enthusiasts have not been forgotten, because there are also rod holders, a livewell in the transom, a lure box or two large fish tanks, Enough to go fishing for tuna, marlin or swordfish.
The equipment is rather complete with tanks, audio system, side door, courtesy lights, navigation lights or the livewell and numerous options available to customize the boat. The construction is, of course, first class with the famous unsinkable foam shell and a very high level finish.
Editor's Note
It's difficult to resist in front of this boat, which gathers pretty much all that you can expect of an open fishing boat. Robust, perfectly finished, it is also efficient with a good layout, very well finished and properly equipped. Moreover, it has the name of Boston Whaler, which allows it to keep a high rate for resale. The very high maintenance will regret the lack of sleep, but that is the only thing that can really be blamed, for everything else that the boat offers, we are in the field of excellence.
Performance report
Tested power : 2 x 350 hp Mercury Verado / Propeller : 17 x 15 1/2 Enertia / 4 persons / Calm sea
| RPM | KNOTS | MPH |
| --- | --- | --- |
| 650 tr/mn | 2,9 | 3,3 |
| 1000 tr/mn | 4,4 | 5,1 |
| 2000 tr/mn | 7,6 | 8,7 |
| 3000 tr/mn | 9,8 | 11,3 |
| 4000 tr/mn | 19,9 | 22,9 |
| 5000 tr/mn | 35,8 | 41,2 |
| 6000 tr/mn | 43,4 | 49,9 |
| 6500 tr/mn | 46,2 | 53,2 |
| | | |
| O-20 kn | 10,7 s | |
| Time to plane | 7,3 s | |
| | | |

Specifications
| | Anglo-saxon | Metric |
| --- | --- | --- |
| L.O.A. | 33'1" | 10,08 m |
| Beam | 10'2'' | 3,10 m |
| Cockpit depth | 2'59" | 0,79 m |
| Weight (Dry, No engine) | 9 000 Lbs | 4 083 kg |
| Building material | Fiberglass | Fiberglass |
| Persons capacity | 14 | 14 |
| Bedding capacity | 0 | 0 |
| Fuel capacity | 300 Gallons | 1 135 Litres |
| Water capacity | 40 Gallons | 151 Litres |
| Maximal Horsepower | 700 hp | 700 ch |
| Recommended Power | 500 hp | 500 ch |
| European Certification | B | B |
Price
Starting at $266,896
Build Your Boat Request A Quote Find A Dealer