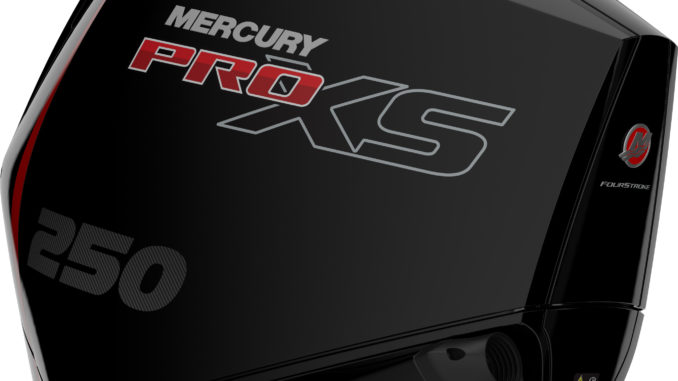 Mercury Marine introduces multiple new 4.6L V-8 outboard engine models – the 250 and 300hp Verado, 250 and 300hp FourStroke, and 200, 225, 250 and 300hp Pro XS – plus the Pro XS 175hp 3.4L V-6. These next-generation outboard engines are part of the largest single new-product development program Mercury has undertaken in its nearly 80-year-history, which has prompted a major investment in expanding its manufacturing footprint.
"In Miami, we said the V-6 was step one of our 2018 introductions and we are thrilled to officially announce step two," said John Pfeifer, Mercury Marine president.  "These new V-8 engines, like the V-6, will set a new benchmark in the marine industry in the eyes of the consumer."
Mercury's new V-6 and V-8 outboard engines are highly configurable to meet the needs of a wide variety of boating segments, from Verado's refined performance, to the FourStroke's fuel efficiency and rigging versatility, to the competitive edge that Pro XS provides serious sport fishermen.  Along with the 3.4L V-6 family released in Miami, the new V-8 engines fill out Mercury's industry leading portfolio in the 175-300hp range.
"These engines are naturally aspirated, durable, powerful and provide options for the consumer that they've never had before," said Pfeifer. "This new lineup aligns with what consumers are asking for and we are delighted to deliver it to them."
New 250 & 300hp Verado
 The new 250 and 300hp V-8 Verado outboard engines raise the bar for the marine industry – again. Continuing Verado's legacy as the most refined outboard engine on the water, the new V-8 plaform provides exhilarating performance across the rpm range. Sea trials have shown the 300hp Verado is up to 20 percent quicker and two mph faster than the closest competitor, while still providing up to eight percent better fuel economy.
The V-8 Verados are compatible with Mercury Joystick Piloting for Outboards for maximum maneuverability and control, and feature Mercury-engineered digital controls and electro-hydraulic power steering for smooth operation. Equipped with Adaptive Speed Control, they deliver increased throttle response and a "sportier" feel.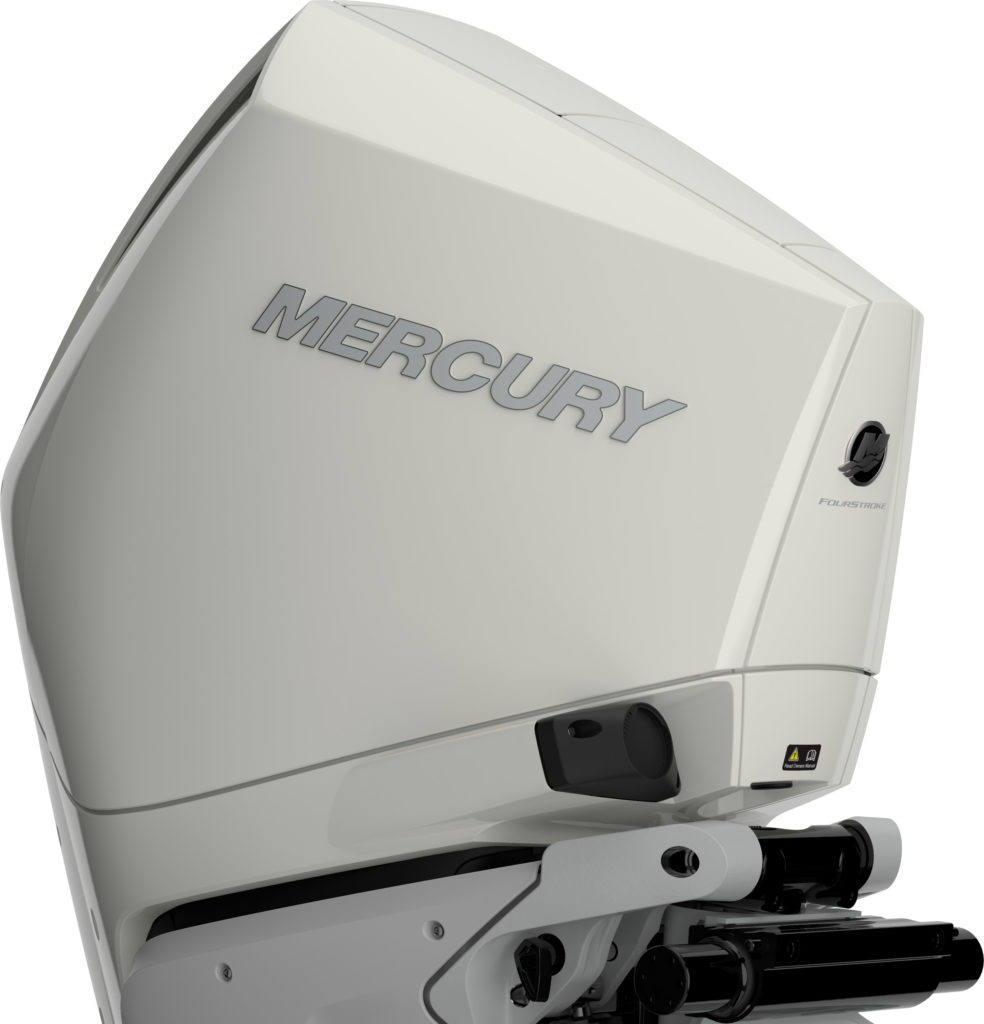 The Verado driving experience is further enhanced by class-leading NVH reduction for an ultra-quiet ride. The new V-8 models' next-generation Advanced Mid-Section (AMS) incorporates perimeter mounts that deliver the lowest vibration in the industry, while sound barriers make it the quietest outboard in its segment. Exclusive Advanced Sound Control technology allows users to toggle between ultra-quiet operation and a "throatier"-sounding sport mode.
New 250 & 300hp FourStroke
 The new 250 and 300hp V-8 FourStroke outboard engines are high-tech without being high-stress, delivering powerful performance while remaining quiet, efficient, reliable and strong. The high-displacement, quad-cam design of the new V-8 powerhead generates plenty of torque, especially at mid-range. The 300hp FourStroke delivers up to 9% more torque than the nearest competitor at 3500-4500 rpm. It boasts class-leading 4.6L displacement yet is the lightest in the 300hp class by more than 10 pounds. Combine ample power with lightest-in-class weight, and the result is exhilarating FourStroke performance from a highly reliable engine.
These new FourStrokes are also exceptionally versatile, offering consumers choices between mechanical or digital (DTS) controls and hydraulic or power steering.  This versatility makes them the ideal outboard engine choice for repowering a wide range of different hulls.  The new V8 FourStroke engines are also available in multiple colors and can be further customized with the addition of an accent panel, as detailed below.
Color Options
Mercury's Warm Fusion, Cold Fusion and Pearl Fusion white cowl color options plus the popular Phantom Black, combined with five factory accent color panels and "paint-ready" panels, let owners mix and match or paint their own panels to further personalize their engine.  These colors are available for both the V-8 FourStroke and the V-8 Verado outboard engines.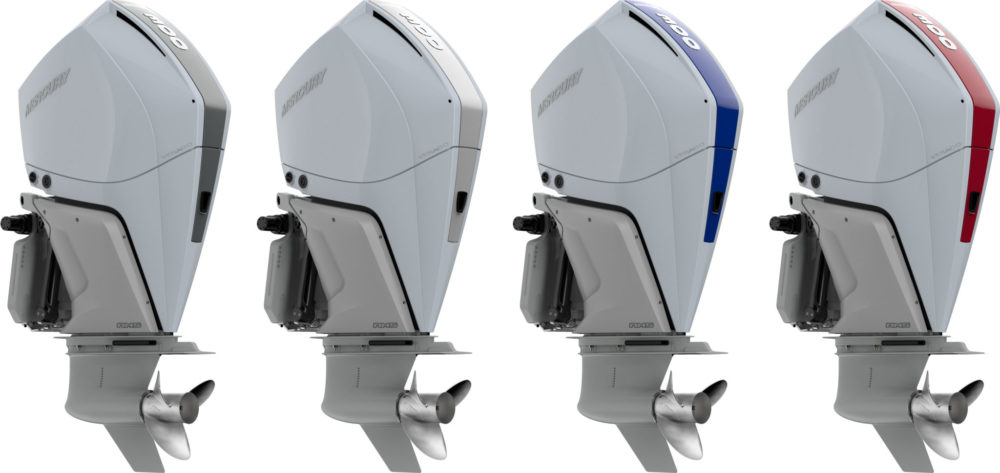 New 175-300hp Pro XS
 The new 175 V-6 and 200, 225, 250 and for the first time ever, 300hp V-8 Pro XS outboard engines are quite simply the next generation of tournament-winning performance. Featuring Mercury's new compact cowl, these engines deliver everything the serious fisherman needs to stay competitive on the water, including ample torque from their high-displacement powerheads and superior acceleration due to their quad-cam design and Transient Spark technology. The 250hp V-8 Pro XS bested the leading competitor in both acceleration and top end in sea trials – and delivered up to 16 percent better fuel economy at cruise.
All V-6 and V-8 Pro XS engines feature Adaptive Speed Control, which maintains the driver's desired rpm regardless of load or condition, and 200-300hp Pro XS models are available with either mechanical or digital controls.
The Pro XS performance-tuned exhaust tone is engineered to deliver a brawny sound quality that is guaranteed to turn heads, yet is quieter than the competition at cruise and top speed. Dial in the new Pro XS models with a wide selection of Mercury propellers, and the fish had better watch out.
Watch as dealers and boatbuilders experience the new V-8 engines for the first time: https://youtu.be/G1orFiYQYIs
Additional information on these engines can be found at MercuryMarine.com
Read more about Mercury Marine: