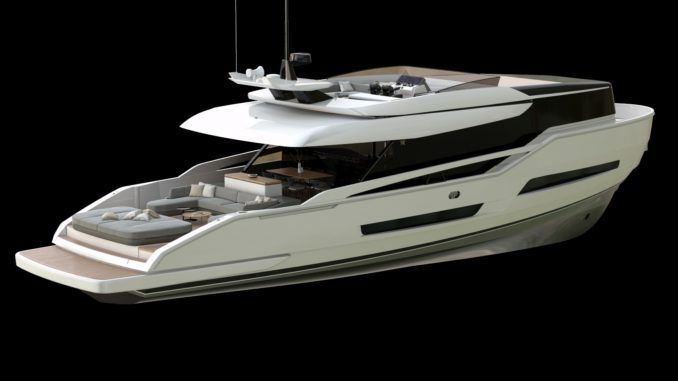 Exceptional volumes for her size, the comfort and convenience of a villa on the coast, very low fuel consumption for long range, and spaces that encourage direct contact with the sea: these are the basic features of the new EXTRA range by ISA Yachts.
ISA Yachts debuts its new line designed by Eng. Francesco Guida with EXTRA 76, a 23 meter yacht that develops a new cruise concept. The  Extra 76 gives guests the chance to live in close contact with the nature, creating a direct feeling with the sea both in navigation and at anchor. The boat uses all the comfort given by the large outside and inside volumes.
EXTRA as "Extra ordinary", a yacht with features that are significantly quite different from the most well-known ones of ISA Yachts. Unusual lines, smaller dimensions, an innovative 'concept of use': the EXTRA 76 is designed to meet the needs of those who want to get closer to the world of yachting.
A spirit of full conviviality with their guests or family
The outset look expresses the distinctive character and the unique personality of EXTRA 76: the play of contrasts on the yacht's sides between light-coloured fiberglass and dark glazing recalls at first glance the lines of a traditional sport yacht seen from a contemporary perspective. Looking at the winding, charming shape reveals the impressive, full-height volume that extends almost to the bow stem. The large vertical and horizontal glazed surfaces are combined like part of a crystal sphere, and offer plenty of natural light and unprecedented space for a yacht a 'mere' 76 feet long.
The open air life is guaranteed by generous outdoor spaces, designed to enjoy maximum comfort and close contact with nature. The cockpit, which on a mega yacht would be called a beach club, delivers unusual volumes on overhang of the flybridge. The central section furnished with big sofas, a table and a maxi sun lounging pad, and the stern swim platform. The fly deck offers a second helm station, an area for with a C-shaped sofa and a huge sun lounging pad, without compromising on the exterior styling of EXTRA 76 in any way.