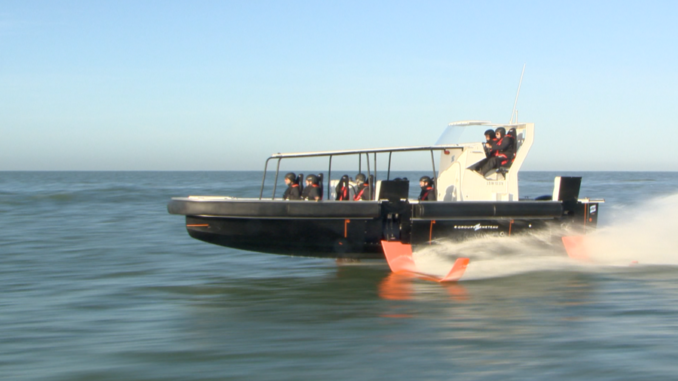 After developing the Figaro Beneteau 3, the first production foiling sailing yacht, Groupe Beneteau has launched a new innovation, unveiling its concept foiling motor yacht. Created through collaborative work, this unique prototype is opening up a new age of boating.
It took just nine months for the teams from Groupe Beneteau, working closely with the best partners in France, to conceive, design, develop and build this next-generation foiling boat.
DEMS Sarrazin Design, Noval and SEAir brought on board a range of design, technical and mechanical skills, alongside the innovation, naval architecture and product design experts from Groupe Beneteau.
And the result is truly outstanding: groundbreaking sensations on the water with and without the foils, improved boat performance, better comfort on board while foiling, reduced fuel consumption…This concept foiling boat perfectly sums up the Group's approach to innovation, with a unique and pioneering project.
Built in Vendée, the boat was tested and refined at Saint-Gilles-Croix-de-Vie port at the start of February when it made its first flights.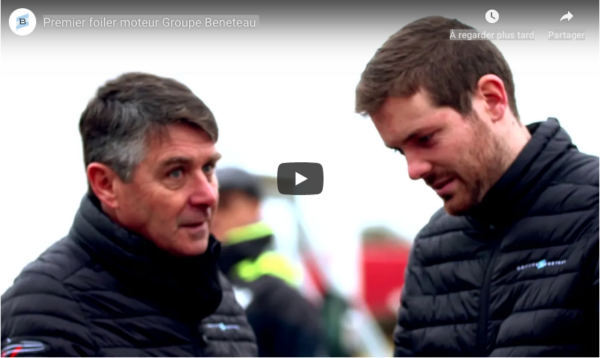 "Following the Figaro Beneteau 3 for sailing, Groupe Beneteau is once again demonstrating its capacity for innovation with this first motor foiler. I would like to congratulate the teams who have successfully delivered on the challenge to design and build this boat", confirms Hervé Gastinel, Groupe Beneteau's Chief Executive Officer.
The objective with this prototype is to test and validate Groupe Beneteau's research under real-life conditions with a view to securing the use of foils for motor yachts.
Specifications
Hull length: 9.70 m
Fully infusion-built: low-emission, weight-saving technology
Pivoting foils: they enable the foiling boat to be used with or without foils, without any loss of output on the water. Docking is simplified and the boat takes up the same space in port as a boat without foils.
Propulsion: outboard for the start of this project, with research underway for future developments.