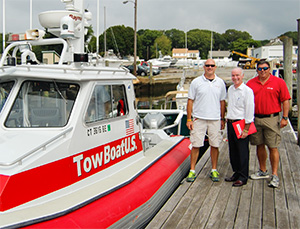 U.S. Coast Guard Reauthorization Includes Look at Improving 911 System for Boaters
A sign of the times, the U.S. Coast Guard reports that it's common for recreational boaters today to use cellphones to call during a boating emergency. While Boat Owners Association of The United States (BoatUS) urges every vessel to have a working VHF radio with DSC (digital selective calling), the nation's recreational boating advocacy, services and safety group also recognizes that cellphones are firmly embedded in boaters' lives. But what happens when a boater tries to call 911for emergency or routine on water assistance? Will the call go to the closest, most relevant rescue agency for a swift response?
Unfortunately that's not always the case. But a provision in the recently passed Frank LoBiondo Coast Guard Authorization of Act of 2018 aims to improve reliability of the 911 system when recreational boaters need emergency help. In an effort to ensure timely dispatch of the closest potential rescue asset or on-water assistance provider, the Act requires the U.S. Coast Guard to review its policies and procedures to "formulate a national maritime Public Safety Answering Points (PSAP) policy." There are more than 6,000 PSAPs in the U.S. – local 24/7 call centers with trained dispatchers that receive 911 emergency telephone calls and route them to the proper emergency service.
"This effort will help minimize the possibility of maritime calls being improperly routed and to assure the U.S. Coast Guard is able to effectively carry out its maritime search-and-rescue mission," said Tina Cardone, executive director of the Conference of Professional Operators for Response Towing (C-PORT). C-PORT members, made up of on-water towing industry companies from across the country, contributed to the legislative effort. This included TowBoatUS Mystic owner Capt. Jeff Dziedzic.
"This was a grass-roots effort by many and took years of working with U.S. Coast Guard and elected officials," said Capt. Dziedzic. "We care about this because of our occasional role in responding to life-threating events as good Samaritans, as well as answering calls for more routine requests for assistance."
In a video recently captured from the floor of the U.S. House of Representatives, Rep. Joe Courtney (D-Conn.), Capt. Dziedzic's local congressman, thanked the captain for bringing the issue to his attention.
BoatUS also thanks the leadership of Sen. Ben Nelson (D-Neb.) and Reps. Lee Zeldin (R-N.Y.), Paul Mitchell (R-Mich.) and Elizabeth Esty (D-Conn.).
Additional TowBoatUS C-PORT members joining the effort included Capt. Chad Noetzel, TowBoatUS Port Huron, Michigan; Capt. Terry Hill, TowBoatUS Potomac, Virginia, Capt. Richard Paul, TowBoatUS Cape Coral, Florida; and Capt. Chris Shaffner, TowBoatUS Palm Beach, Florida.