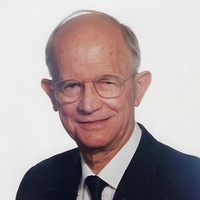 Mercury Marine is saddened by the death of Charles "Charlie" Strang who served as Carl Kiekhaefer's top engineer for 13 years at Mercury Marine.   After leaving Mercury, he served as Director of Outboard Marine Engineering (OMC) and later CEO and Chairman of the Board.  Strang, 96, was also known as the creator of the sterndrive engine, sketching the first sterndrive in 1948 while attending MIT.  Strang's mother, Ann, is responsible for the famous Mercury Phantom Black engine color.
Strang was a very popular figure in both the marine and NASCAR industries.  In his storied career, Strang was President of the American Power Boat Association and became the only American to serve as the President of the U.I.M. – a federation of some 50 nations that governs powerboat racing on a worldwide basis.
A Member of the MOPAR Hall of Fame
In 1998, Bill France announced that Strang would become the National Commissioner for NASCAR, a position he held for 10 years.  In 2015, Charlie became a member of the MOPAR Hall of Fame.
"Charlie was an avid powerboat racing ambassador and a brilliant engineer," said John Pfeifer, Mercury Marine president. "He loved engines and loved Mercury Marine.  We could always count on Charlie to lend his support to the industry.  He lived an incredible life and is responsible for a lot of the success we have today."
Read more in Strang's obituary:
http://www.strangfh.com/obituary/charles-strang-jr?fh_id=10834