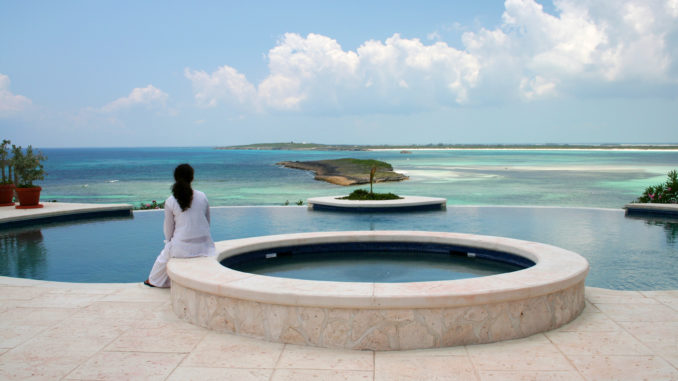 If you don't want to sleep in your boat, there are lots of possibilities from an exotic night to the most luxury place. Here some of the best places to stay in Bahamas.
In Nassau

Graycliff Hotel
Built by a pirate, this place is 260 years old and offers a charming atmosphere between the Georgian buildibng style and the tropical garden. The Graycliff hosted  some famous guest like Winston Churchill  and the Beatles. This establishment includes an hotel, a restaurant, a cigar factory and one of the most important wine cellar in the word with more than 250,000 bottles!

Atlantis Paradise Island
If you like the impressive building, water park and crowdy place, the Atlantis Paradise Island is for you. Perfect for several day with 17 restaurants and 11 swimming pools, the establishment includes also a marina.
In Abaco

Treasure Cay
Built around a marina, this is the perfect place to combine vacation and boating. the place is famous for the big-game challenge and boater friendly.

Hope Town Harbour Lodge
Very well located, this hotel offers a direct beach access  with a life reefand also a marina and a good restaurant.
In Grand Bahama

Pelican Bay Hotel
Not the most luxury hotel but a very nice view, a pool bar and two restaurant. The Pelican Bay Hotel is well located, close to the beach and to the ferry.
In Harbour Island

Coral Sand Hotel
This hotel offers an incredible lagoon view. Take a (bleu) seat and enjoy the view. You have also a direct access to the famous pink sand beach. Nice rooms and delicious food.
In Andros

Tiamo Resort
Only accessible by boat, after sailing in inlets lined by the mangrove, Tiamo is and Ecolodge hidden in the middle of the palm tree but with a direct access to a white beach. Perfect place for a retreat or just relax.

Kamalame Cay
Located on a 96 acres private island, this resort is a breath taking with an incredible beach. In the discreet rooms, you will feel alone in the world but the service is perfect and the food very delicate.
In Cat Island

Fernandez Bay Village
If you are looking for a private get away, this is the perfect place. Located on a  « Robinson Crusoe » style beach, this place offers luxury rooms and first class food.