Dr. Jason Halfen – The Technological Angler
Set foot on a beach, a jetty, a pier or even a small boat, and if your senses are filled with the sights, sounds and smells of saltwater, then you're likely within casting distance of terrific fishing. Whether your targets are redfish or speckled trout, snook or tarpon, stripers or sharks, opportunities for great angling abound inshore. Even when faced with such apparent bounty, many first-time inshore anglers encounter a significant speed bump on their way to success, posing the question, "how do I begin?"
Of course, we need to pick a location for our trip and a variety of fish to pursue, but we ultimately ignite a passion for inshore fishing by considering the primary tools of every angler: bait and tackle. Indeed, a stroll through the fishing-related aisles at a major retailer, or even a hometown "ma and pa" bait shop, can be an overwhelming experience. Which rods and reels are best suited for the fish I'm going to chase? How about line and leader? Hard baits, soft baits, or live bait?
Professional saltwater angler Capt. Mark Davis offers sage, time-tested advice: "for a beginner, keep it simple."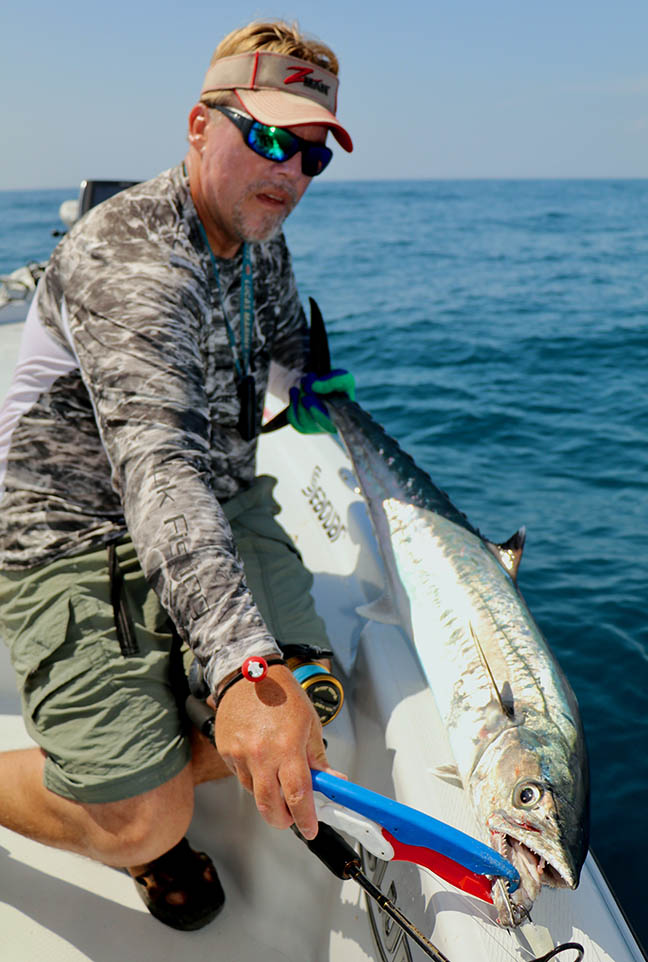 "The top two goals for a novice inshore angler are to catch fish and have fun," noted Davis, the host of BigWater Adventures, a long-running, successful television series currently airing on the Outdoor Channel and World Fishing Network. "Those early successes will breed excitement and a deeper passion for the sport. Not only will successful anglers want to return to the shore – as soon as possible – but they will also start to think more carefully about the resources we all share; indeed, catching fish and having fun are the first steps in creating future stewards."
What is Davis' equipment recipe for an inshore angler at the beginning of their briny career?
"Anglers should think about a set of three rods and reels. With these, they'll be covered from trout to tarpon and everything in-between. One tip for keeping things simple is to have all three rods the same length –six-and-a-half feet is a good place to start – with each rod rated for a different line class. Think about the combos that you'll build from those rods like you'd think about drink sizes at the coffee shop: you want a small, a medium, and a large, each for a different size of inshore fish you'll encounter."
Davis continues: "For your small rod – one that will see the lion's share of duty for fish like speckled trout – look for a rod rated for six to ten-pound test line. Equip that rod with a 3500-series spinning reel and spool up with 20 lb. test Seaguar Smackdown. Finish off that rig with a leader of 10 or 15 lb. test Seaguar Blue Labelfluorocarbon and it's ready to go."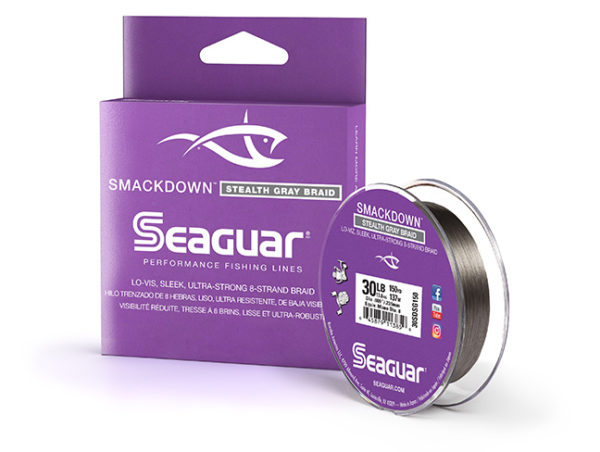 A braided main line with a 100% fluorocarbon leader is a common theme that you'll note in all of Davis' recommendations. "Seaguar Smackdown gives me strength and sensitivity, and it lets me cast farther than I could with other lines. Seaguar 100% fluorocarbon leaders are big difference makers for me, no matter where I fish, and I've fished all over the globe. Fluorocarbon is nearly invisible to fish under water, is impervious to the sun's damaging UV rays, and has remarkable abrasion resistance – so rubbing against rocks, dock pilings, mussels or anything else it might encounter underwater is far less likely to cause line failure. A two or three-foot section of Blue Label leader is a perfect length for inshore fishing. Connect the Blue Label leader to the Smackdown main line with a Double Uni knot, which is an easy knot for beginners to learn and tie."
When discussing the all-important braid-to-leader connection, Davis cautions, "the Double Uni is fine if you don't wind the knot into the rod guides. If you do so repeatedly, the Double Uni may start to fray on the braid side of the knot. If you decide to use a longer leader, one that will end up passing through the guides on every cast, then learn to tie the FG knot instead."
Rods for medium- and super-sized fish will be rated for higher line classes and will be equipped with larger reels spooled with stronger line. "Your mid-range rod," continues Davis, "the one that you'll use on redfish trips, will be rated for 10 to 20-pound test line. That rod will get a 4500-series spinning reel, spooled up with 20 lb. test Seaguar Smackdown and a 20 lb. test Seaguar Blue Label leader."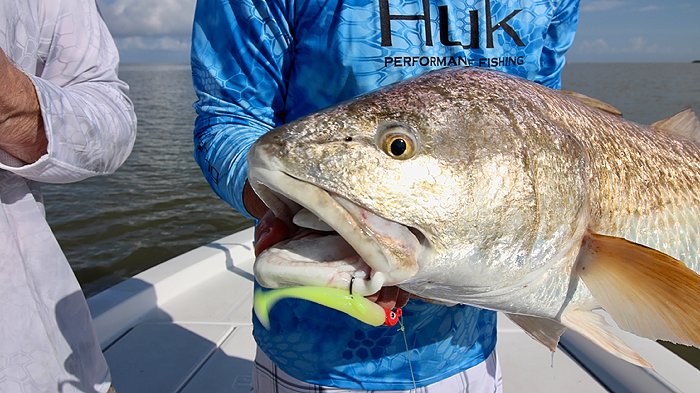 "The big boy, the one that you'll turn to for bull reds, cobia, and maybe even tarpon, could be rated for anything from 15 to 40 lb. test line. That heavy rod is going to get a big reel – a 5500 series spinning reel – which will be spooled with 30 lb. test Smackdown and finished with a 30 or even 40 lb. test Blue Label leader."
Now that our beginner inshore angler is equipped, we can turn our attention to the business end of the line: what should we choose for bait?
"Without a doubt," remarks Davis, "we're going to start with some sort of live bait. Now, you can certainly purchase bait, but I strongly recommend that you learn to catch your own, either with a cast net or hook-and-line. You can learn so much about what your target fish are feeding on by catching your own bait. If you catch shrimp, then use shrimp; if you catch mullet or croaker, then use mullet or croaker. Let the most prevalent forage guide your bait selection, because that's what the fish are used to chasing and eating."
"Now, let's put that live bait in a place where it can be killed and eaten," adds Davis. "A simple bottom rig is a great way to stay in direct contact with the bait and feel the bite. Use 1 oz. of lead weight for every 10-20 feet of water depth, depending on current and wave action. I recommend strong and crazy sharp Gamakatsu circle hooks – 1/0 for your small combo, 3/0 for your medium, and 5/0 for your jumbo. Remember that with circle hooks you don't want that big sweeping hookset like you'd use when bass fishing. Just come tight to the fish and set the hook by reeling fast as the rod loads up. Circle hooks basically set themselves when you do it right."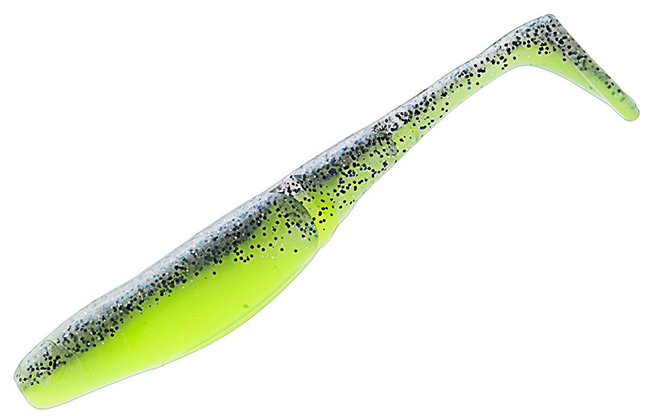 When it's time to graduate into the world of artificial lures for inshore fishing, Davis has high praise for soft plastics, particularly those from Z-Man Fishing Products. "Z-Man soft baits are like nothing else in the tackle shop. They are made from a unique material called ElaZtech which fish simply cannot break. Remember that we're chasing fish with teeth, and those teeth will rip a "traditional" soft bait to shreds – but not Z-Man baits. I can use one Z-Man bait over and over again, switching only when I feel like changing color or profile, which is a big timesaver on the water and also keeps more money in my pocket."
"Heading out for redfish? Hang a 4" Z-Man Scented PaddlerZ under a popping cork, and let the fun begin. Got a spot close to the beach that has some red snapper hanging around? Rig up a 10" HeroZ and go put them in the boat. And the Z-Man Trout Trick baits are absolutely deadly on speckled trout. Pick up a few bags try out and you'll quickly learn that inshore fish eat artificial lures too!"
Inshore fishing offers virtually limitless possibilities. These time-tested tackle and presentation tips from Capt. Mark Davis will put you on the path to inshore fishing success!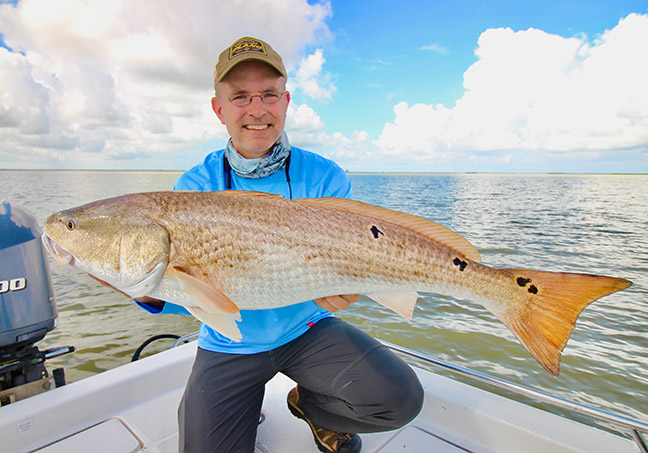 About the author
Dr. Jason Halfen owns and operates The Technological Angler, dedicated to teaching anglers to leverage modern technology to find and catch more fish. Let your learning begin at http://www.technologicalangler.com.