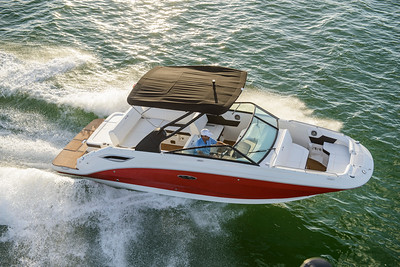 Big surprise this monday, Brunswick group just announced that it has ended the sale process for Sea Ray initiated in the end of 2017. Instead of that, the boat builder will try to galvanize the brand and to refocus on the sports boat and cruiser boat business, the original craft of the brand. On the other side, the brand will stop the sport yacht and yacht models production for the boats. This decision concerns boats above 40 feet.
"Over the last several months, we have engaged in a thorough sale process for the Sea Ray business, which we believed would generate the highest value for our shareholders. Although there was interest in the business, the offers we received did not reflect an appropriate value for this premium brand, and did not meet our expectations. We have concluded that our best opportunity to maximize value is to retain the Sea Ray brand and refocus the business on the sports boat and cruiser product portfolio. As part of the transformation of Sea Ray, we will discontinue sports yacht and yacht models and begin an orderly wind down of yacht production. These combined actions will create a revitalized Sea Ray and that this is the best solution to generate value for our dealers and shareholders now and in the future." Say Brunswick chairman and CEO Mark Schwabero.
To refocus on the sports boat and cruiser boat
This new strategy involves the closure of the Palm Coast plant and the elimination of 825 jobs. A portion of Sykes Creek facility will continue to operate to support customer service and warranty obligations.
"We will maintain the capability to provide outstanding service and support to our dealers and installed base of all Sea Ray customers, consistent with the brand promise and history. We appreciate the dedication and commitment of our employees and the communities that support our operations and will help them through this transition.» Say Mark Schwabero.
Read more about Sea Ray:
Sea Ray just launched the Sundancer 320 Outboard
Sea Ray Introduces New SDX 250 and SDX 250 Outboard Models