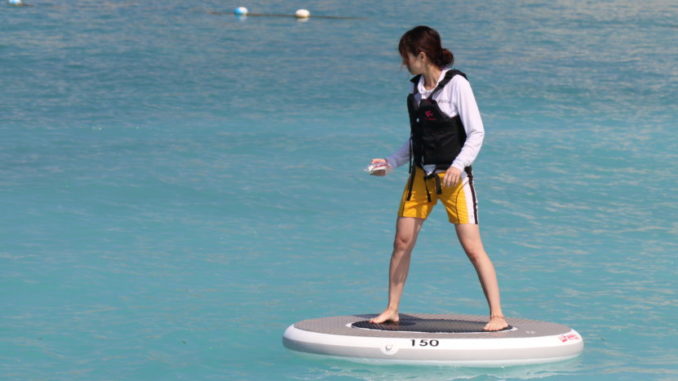 Yanmar has developed a new marine activity called the Wheeebo, based around the concept that anyone can enjoy exciting new experiences on the water. The Wheeebo expands upon Yanmar's long commitment to delivering excitement in the realm of recreational marine and enriching people's lives through providing rich and fulfilling experiences.
The development of the Wheeebo demonstrates the application of design thinking and rapid prototyping to discover the needs and difficulties that users themselves did not necessarily realize they faced and offer a solution that reflects the needs of the market. Users of the circular board lean in the desired direction of travel and onboard sensors detect the change in weight distribution and engage the boards motor to propel the board across the water.
The Wheeebo is expected to be used at lakes, beaches and other waters where the surface is relatively calm. Aimed at family users, this new form of marine activity will be enjoyed by a wide range of people, from late elementary school age to seniors, who will discover new ways to enjoy marine activities through the Wheebo.
How the Wheeebo works?
 The Wheeebo does not require a license and lets you enjoy the sights of the ocean and the surrounding scenery at your own pace.
 Just place your weight in the desired direction of motion. Operation is simple and intuitive allowing you to ride from your first day on the water.
 The Wheeebo is not just for the ocean. It can also be used on lakes, ponds, rivers, pools and canals. Its use is limited only by your imagination!
Direction of motion is controlled by the user adjusting their center of weight in the desired direction of travel. Board sensors detect the direction and adjust the propeller mounted under the board. While the Wheeebo has a simple and intuitive operation, a moderate amount of skill is required for mastery, making the Wheeebo an easy entrance for a wide range of users to experience the excitement of marine activities.

Specifications
| | |
| --- | --- |
| Size | diameter 4'59"/4'92" – 140cm/150cm |
| Speed | Walking speed (max. 3,5 mph – 3 kt.) |
| Drive | Electric Motor |
| Power | Nickel-hydrogen battery |
| Operation time | 60 minutes on one charge |
| Acceleration | 2 acceleration modes controlled by hand remote |
| Area of use | Beaches, lakes and other calm waters |