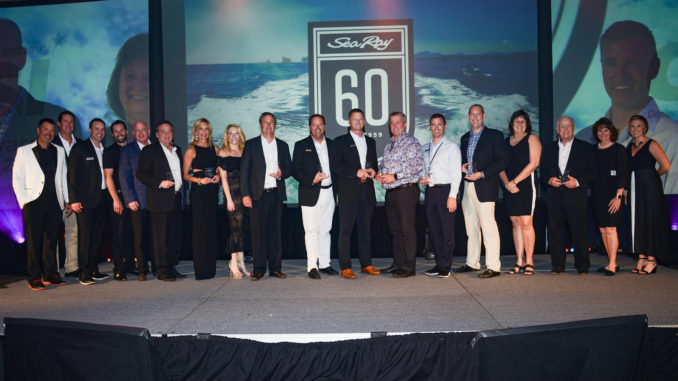 Sea Ray recently celebrated its 60th Anniversary during a marine industry dealer meeting at Horseshoe Bay Resort in Texas. During the event, attendees experienced on-water product demonstrations of Sea Ray's latest model line-up including the award-winning Sundancer 320, SDX 250 Outboard, SLX 400 and the brand-new, limited-edition SLX-R 350 Outboard, recently named a 2019 Top Product by Boating Industry. 
In addition, attendees enjoyed training, opportunities for partner connections and a Texas-style cookout with celebrity chef Tim Love. Sea Ray president and general manager, Brad Anderson, Brunswick Boat Group president Huw Bower and Brunswick CEO, Dave Foulkes, shared business updates including Sea Ray's focus on: Inspired Design, Meticulous Craftmanship, Effortless Performance, Unrivaled Support, and Elevated Experiences, along with their vision for the company's future which was praised by all in attendance.
During the 60th Anniversary Gala and Awards Dinner, Sea Ray honored dealers in categories for Lifetime Achievement, top sales, Customer Satisfaction Index (CSI) Dealer Satisfaction and Diamond Recognition for 60 or more years in business.
Rod and Wanda Malone from Sail & Ski Center were honored posthumously with the Lifetime Achievement Award, which was accepted on their behalf by their son, Doug Malone as well as Sail & Ski president, Buzz Watkins, and the Sail & Ski team. Individuals are selected for this award thanks to lasting impressions left on the marine industry, their place of business as well as their impact through personal connections.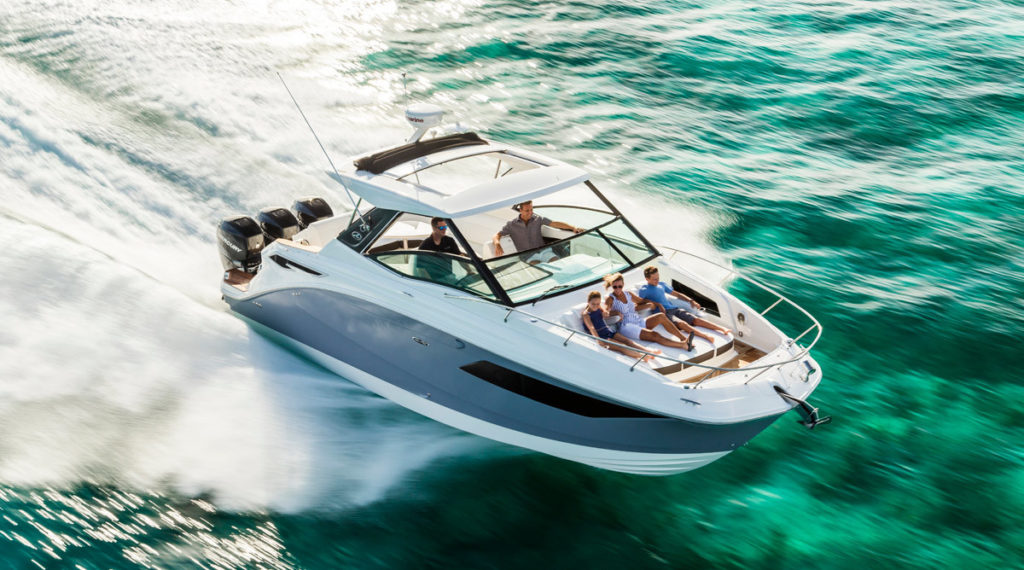 "My family is very honored to have our parents recognized by Sea Ray for the Lifetime Achievement Award," said Malone. "Sea Ray was the catalyst that propelled our business to prosper and become what it is today. My dad absolutely loved everything about Sea Ray, the products and especially the people. He was so proud to be a Sea Ray dealer. We owe Sea Ray a great debt of gratitude for what they have done in our lifetime."
Here's a look at all the award winners from the 60th Anniversary celebration:
Top 5 International Dealers:
1. Marina Marbella S.A., Spain, Portugal and Morocco
2. Performance Boats S.A. De C.V., Mexico
3. BootePfister GmbH, Germany
4. W.A.R. Bootbau & Boothandel AG, Switzerland
5. Econ sk GmbH, Germany
Top 5 North American Independent Dealers:
1. Sun Country Marine Group
2. Lake Union Sea Ray (Union Marine)
3. Irwin Marine
4. Skippers Marine
5. Mau Marine
Top 5 MarineMax Dealers:
1. MarineMax Pompano (top-selling Sea Ray dealer in the world seven consecutive years)
2. MarineMax Long Island and Lindenhurst Marina
3. MarineMax Rogers
4. MarineMax Lake Ozark
5. MarineMax Clearwater
CSI Dealer Satisfaction Awardees:
Prince William Marina
MarineMax Wrightsville Beach
Erwin Marine Sales
Nunmaker Yachts, Inc.
MarineMax Fort Myers
Hyannis Marina
MarineMax Orlando
Pride Marine Group
Sea Ray of Cincinnati
MarineMax Grand Lake
MarineMax Clearwater
Deep Creek Marina
Colony Marine Sales & Service
Mau Marine
Diamond Recognition Honorees – for 60 or more years in business:
East Side Marine
Prince William Marina
SkipperBud's
M&P Mercury
Marine Center of Las Vegas & Dry Dock Boat Sales
Colony Marine
Needham's Marine Limited
Marina Fortin
B&E Marine
Spend-A-Day Marina
Trudeau's Marina
Joe's Marine
Sea Ray of Cincinnati
Peters Marine Service
Smith Boys
Russell Marine
Walstrom Marine
Irwin Marine (celebrating 100 years)
Hutchinson's Boat Works (celebrating 111 years)
Sea Ray would like to thank its 60th anniversary dealer meeting and event sponsors:
Attwood
Boating Services Network
Brunswick Acceptance Company
Dometic
Flounder Pounder Marine
FUSION®
Great Lakes Boat Top
Hyperlite
Infinity
Kenyon International, Inc.
Mercury Marine
Mini Events
Morbern
Piedmont Plastics
SeaDek® Marine Products
Sea Ray Connect powered by NAUTIC-ON™
Simrad®
SureShade®
Sunbrella®
Taylor Made Products®
Threds
Xtreme Tower Products (XTP)