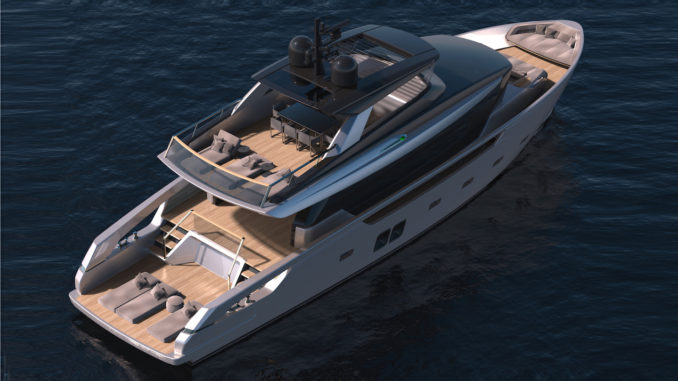 Italian yacht-builder Sanlorenzo is revealing the second model in its SX crossover line, the SX76, building on the success of its initial model powered by Volvo Penta's Inboard Performance System (IPS).
When Sanlorenzo launched its first 'crossover' yacht in 2017, the company aimed to transform boating by creating a model that would combine the best elements of flybridge and compact explorer yachts.
"The SX line is designed to be versatile, elegant and efficient, and it is the efficiency of Volvo Penta IPS that has led us to select it again as the propulsion system for the new SX76," says Massimo Perotti, chief executive officer and chairman of Sanlorenzo.
"This line of yachts is revolutionary in many ways. Every aspect is designed for the customer to really enjoy their contact with the sea – from the big stern platform that can host many items for watersports, to the large salon with ceiling-to-floor windows, and the enclosable helm station on the flybridge that leaves a lot of space on the main deck for many layout possibilities."
Efficient propulsion for high quality SX line
The new SX76 is installed with twin Volvo Penta D13-IPS1050, and has a maximum speed of 22 knots. The yacht is being revealed at the 2018 Cannes Yachting Festival.
"The SX76 was conceived for customers who want a smaller and more agile version of the SX88," says Perotti. "Whereas the SX88 has a triple installation of Volvo Penta IPS, the SX76 only needs the twin D13-IPS1050 package as it's smaller and lighter.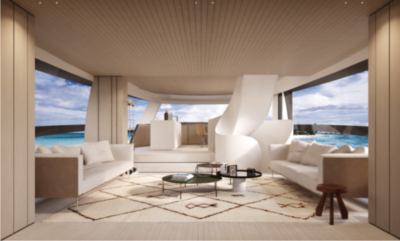 "The efficiency of Volvo Penta IPS is perfect for the philosophy behind the SX range. Performance, maneuverability, fuel consumption, lack of noise – every feature of this engine package fits the high standards of quality we want. Volvo Penta is an internationally recognized brand and guarantees excellent quality and attention to detail. We are already working on a bigger SX model."
"Volvo Penta IPS has been a game-changing technology for yachts, opening up new possibilities for yacht design, operation, and service," says Nicola Pomi, vice president of sales for Europe at Volvo Penta.
"The technology delivers an unmatched experience when it comes to maneuverability, as well as the benefits of increased fuel efficiency and space onboard. We believe that customers will enjoy the high performance of the SX76 powered by Volvo Penta."