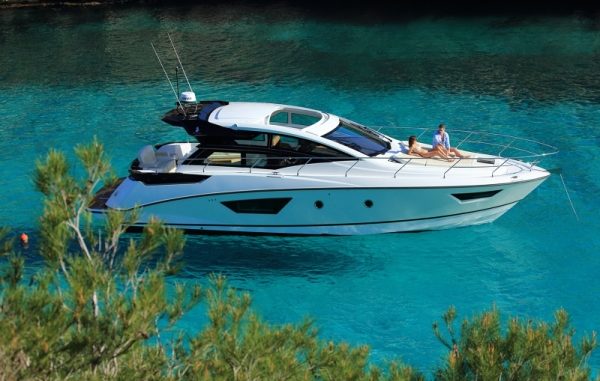 Sail & Ski Center will develop its marketing and sales efforts for the Beneteau powerboat products out of their locations. Sail & Ski Center operates stores in Austin and San Antonio servicing customers in Central and South Texas since 1969. They will have Beneteau powerboat models on site, including the Gran Turismo express yachts, Swift Trawlers and Monte Carlo motor yachts available.
"Sail & Ski Center is long established family business, as is Beneteau. Sail and Ski was ranked #1 dealer in North America by Boating Industry Magazine in 2018." said Jean-Francois Lair, Director of Sales of Beneteau Americas. "We are very excited to start working with such a partner." Lair added.
"We are very excited to partner with Beneteau Powerboats to sell their broad line of express cruisers and trawlers.  We believe that Beneteau offers the best combination of quality, luxury, style and features that our customers are looking for.", said Buzz Watkins, President of Sail & Ski Center.
Beneteau powerboats will be on display and ready to tour, including the Gran Turismo 40, 46 and 50; Swift Trawler 35, 44 and 47 along with the Monte Carlo 5 and 6, at Miami Marine Basin Stadium from February 14 through 18th, 2019. Consumers looking for more information about Beneteau powerboats should visit Beneteau.com. For more about Sail & Ski Center, visit www.sailandski.com.
About Sail & Ski
Sail & Ski is a full service Boating Lifestyle store. Our focus is to "make boating easy". Whether it's selecting and purchasing a new or used boat, maintaining the boat you already have, or enjoying your boat with friends and family, Sail & Ski is dedicated to delivering the absolute best boat ownership experience for all of our customers. That's why Sail & Ski was voted Boating Industry Magazine's #1 Boat Dealership in North America, along with a host of industry awards that recognize our commitment to serving you, our customer.