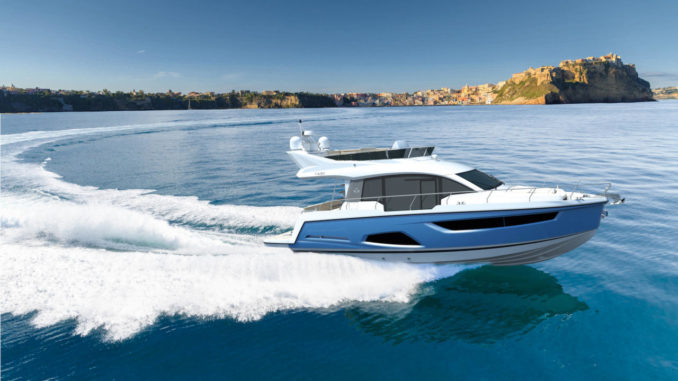 It will be presented during the next Düsseldorf Boat Show, the new Sealine F430 is a Flybridge boat that breaks all records in its class. The new Sealine F430 offers plenty of space on three decks for six people, even for longer trips. The Flybridge is the main element of this luxury yacht. In addition to the sun terrace and U-shaped seating area, it offers a Gourmet Wetbar. Up to two refrigerators complete this space in the sun. The F 430 is available with two to three double cabins with a Queen-size bed. Inside, we can enjoy a 360-degree panoramic windows and the hull is specifically designed for mass-produced Volvo Penta IPS thrusters.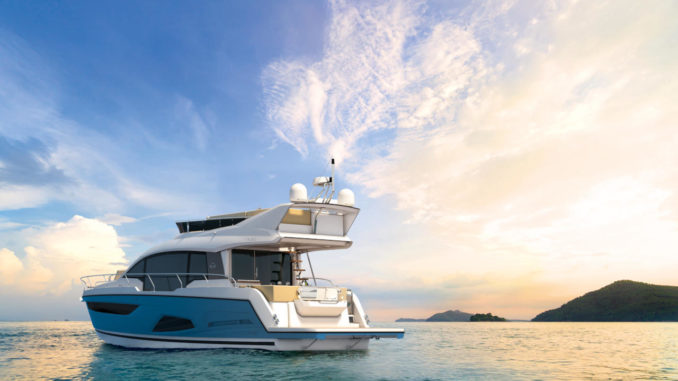 The original Flybridge
The Flybridge offers 150 square feet with a dining area for 6 people and an all-in-one Gourmet Wetbar with BBQ, washbasin and lighting.
Two refrigerators can be integrated into the seats and keeping all drinks fresh on long summer days. Another advantage: the port-side backrest swivels and converts the passenger seat into a lounge with a rear view.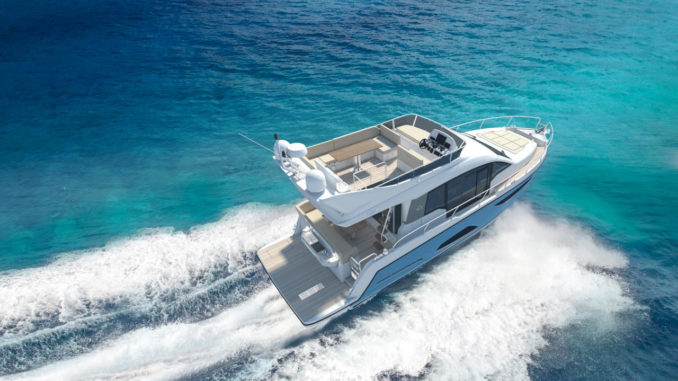 Intelligent Use of IPS
The new Sealine F430 is already equipped in standard with two IPS 400 engines Volvo Penta. Thanks to the accompanying joystick, the boat is very easy to handle in every situation and can be easily maneuvered. It is especially the wheelhouse on the Flybridge that offers an optimal overview. Thanks to the perfect position of the joystick and the staircase.
Luxurious Interior – First-class quality with noble materials
The Sealine F430 can be designed for the needs of the owner. On 43 feet, the yacht offers, if necessary, three full double cabins. In the two-cabin version, the master cabin is very wide (13',6'').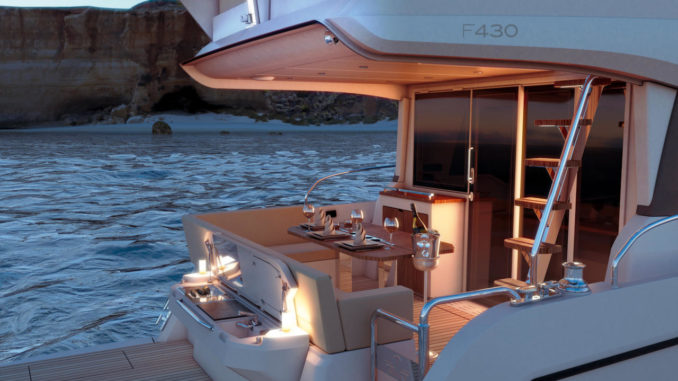 Always the Perfect Space
On the new Sealine F430, you will find four pleasant lounge areas. Whether in the lounge, the cockpit, or the Flybridge, each lounge offers space for up to six people and is designed so that passengers can sit facing each other. The new F430 thus has a breathtaking space that is usually only available on 50-foot yachts. Thus, the Sealine F430 has two outdoor spaces and an indoor kitchen, perfect for all occasions.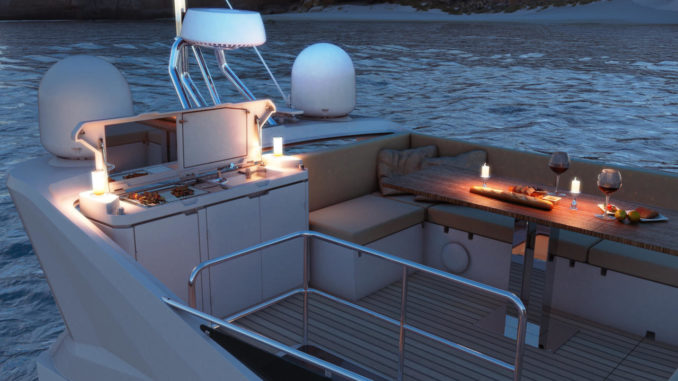 Traveling with the digital
The new Sealine F430 is already equipped with the standard Smart Boat system. This allows the owner to control his boat's systems via a chart plotter or tablet and to consult information such as the gas level or the water temperature. Thanks to the ultrasonic sensors installed in the tanks, all the contents of the tanks are displayed very precisely.