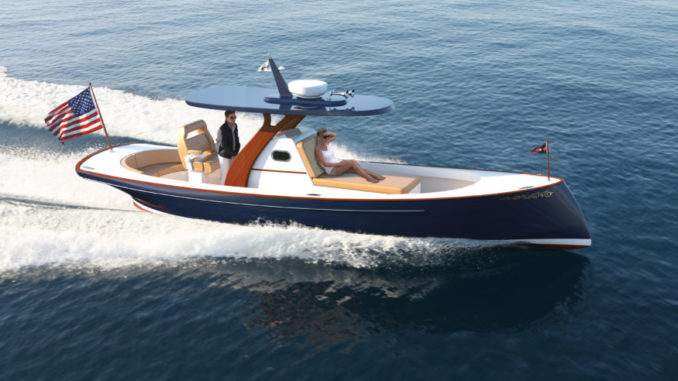 James P. Moores, founder and president of Moores Marine, a premier vintage yacht restoration yard, is delighted to announce the opening of his new company, Moores Yachts, and the inception of its first yacht, the new M30. From a man who spent 40 years of his career restoring and rebuilding antique wooden boats comes a 30-foot cold-molded boat that combines the elegance of designs from the golden age of yachting with today's high-tech marine technology and performance.
"The M30's lines are a tribute to the great designers of the pre-war era," said Jim Moores. "The ducktail in the transom is inspired by John H. Wells. Known for his fast-running commuters, Wells designed for Consolidated, Defoe, and the New York Yacht, Launch and Engine Co. The transom is inspired by the late L. Francis Hereshoff and the bow is inspired by World War I battleships."
Moores trained in shipyards in Thomaston and Tenant's Harbor, Maine, before starting his own boat-building shop in Lubec, Maine in 1978. He built Maine dories and more than 30 commercial fishing vessels designed for the rugged seas of Maine and Canada prior to founding Moores Marine in 1986.
Moores believes we are entering an era of yachting that both calls for and accepts a greater diversity of boat designs. "I have been dreaming of a yacht for the new age for quite a while," he said. "The M30 is designed for the person who appreciates elegance; who wants a civilized little yacht but wants it to perform as well."
This is not your grandfather's yacht but one for generations to come.
While above the waterline, the M30 harkens back to a more gracious era, below the waterline is a different story. "We worked with B&B Yacht Design in Bayboro, North Carolina, to refine the M30's hull to reach 50-plus miles an hour," Moores said. "Marrying design with performance without sacrificing either is what Wells and his peers did so well. Let me tell you, that is no small feat. The M30 is so much more than I had dreamed."
Moores says that with the slightest of encouragement, the new M30 will gracefully lift her bow and turn in half her waterline length. Achieving speeds in excess of 50 mph, she will race smoothly across the top of the water and handle like a sports car.
Moores designed the M30 to have a hard top that folds forward so the boat will be equally suited to serve as a runabout or yacht tender. It can be towed, trailered, stored on a lift, in a drystack or a garage. "You easily can take her with you to the lake house, beach house, or wherever you might want her," he said. "If you plan to use her as a tender, we will install lifting eyes." Moores Yachts also will work with the owner to personalize the boat's upholstery and hull colors.
"When she goes across the harbor, I want the world around her to stand still. That is a true yacht in my book," Moores said.
Construction will begin on Hull #1 of the M30 by Moores Yachts at Moores Marine in Beaufort, N.C., in January, 2019. Moores Marine, which sits on 17 acres and is staffed by a team of artisans, is capable of constructing multiple M30 hulls simultaneously.