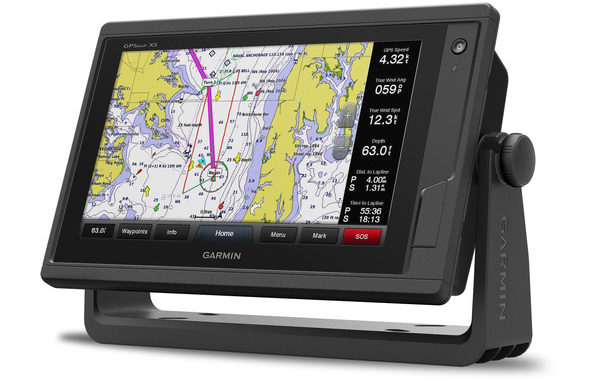 A Real Navigation Center
The GPSMAP 922xs (also available in a single plotter version) is a sonar / GPS handset equipped with a 9-inch touchscreen. Aesthetically, the new device has a very sober appearance with a thin rim around the screen and a simple on/off button. There is also a lower drive bay for the dual SD card reader. The rear panel is a bit more complete with four connectors, including one for the NMEA network and one for the Ethernet connector. It is a simple concept where all functions are controlled from the touchscreen. This WVGA Screen offers a good resolution (1024 x 600 pixels) enough to propose a high definition display.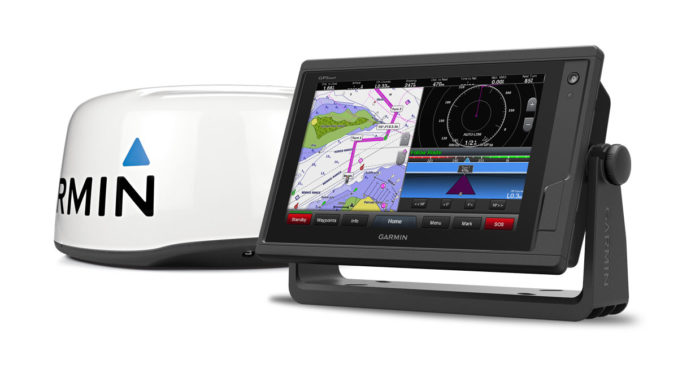 GPS 10 Hz and CHIRP Technology
The GPS part features a new 10 Hz integrated GPS receiver that allows you to update the data ten times per second for smoother screen refreshments and optimized accuracy. Using BlueChart G2 Vision HD mapping, the device can also record up to 5000 waypoints, 100 itineraries and up to 50 recorded tracks.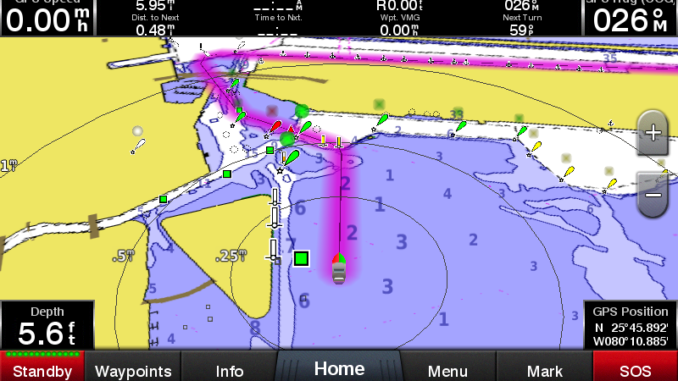 The sonar is an integrated module displays a power of 1 kW and uses CHIRP technology for exceptional accuracy and excellent target discrimination. The GPSMAP 922xs allows you to operate any CHIRP low, medium or high frequency. CHIRP probe is also compatible with the ClearVü CHIRP scanning sonar technology for a quasi-photographic quality display of everything you can find under the hull of the boat. Finally, it is compatible with the Panoptix technology which allows for an ultra-detailed and real-time view of what happens under the surface.
The interface has also been thoroughly redesigned to provide a more intuitive experience, similar to a modern smartphone or tablet. Finally, it takes only a few minutes to take the device in hand.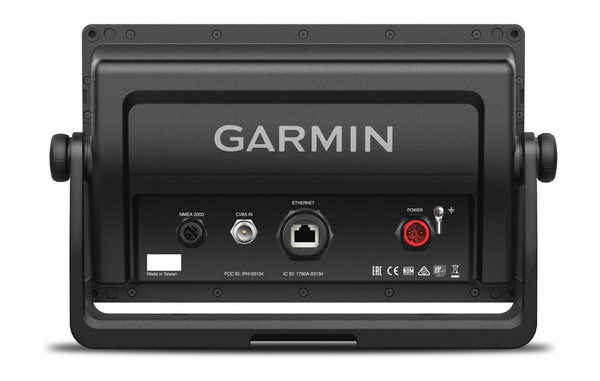 A Very Complete Connectivity
In addition to the classic features found on GPS and GPS Plotters, this new device stands out with advanced connectivity. There is ANT, a wireless connection which allows you to synchronize your marine GPS watch, your Garmin Nautix glasses displays, or the gWind wireless weathercock anemometer with your GPSMAP handset. The ANT connection also allows you to control the device using the GPSMAP wireless remote control.
Devices can also connect to the Garmin Network to share data from other fishfinder (including Panoptix), map data, radar information, IP cameras, and user data between multiple devices.
Thanks to its NMEA 0183/2000 connection, the GPSMAP can connect to many sensors, probes or applications such as autopilots, digital switching, FUSION-Link (to manage the music on board), VHF, AIS or simply join the on board network.
Access to ActiveCaptain app
The device is built-in Wi-Fi, so you can use BlueChart Mobile 2.0, a free application available in the App Store. This app allows you to get reliable weather information to plan your itineraries on your iPad or iPhone before transferring them to your Garmin chart plotter via the wireless connection. You can even control a VIRB action cam and stream videos from your video camera from your plotter screen.
Using the Wi-Fi network, you will also have access to the free all-in-one ActiveCaptain app which allows you to control your plotter from a smartphone or tablet running Android or iOS.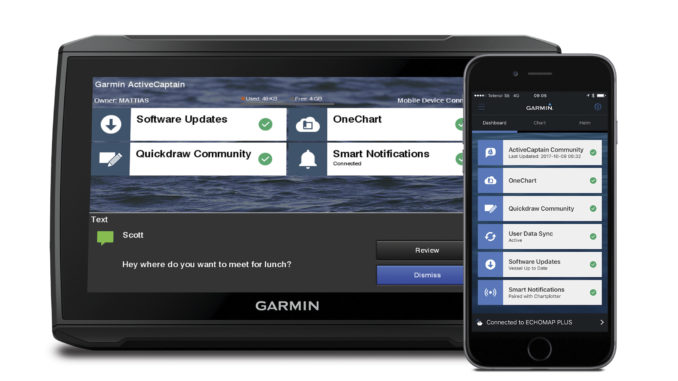 Garmin has also incorporated a new feature called Quickdraw Contours which allows you to instantly create your own HD fishing charts. You can customize them to meet all your needs, keep your data, or share with the Quickdraw community on Garmin Connect. No topographical expertise is required. You just fish, while the software creates your maps, the results appear instantly. You can do that with any Garmin Panoptix sensor or HD-ID, any Garmin ClearVü sensor equipped with CHIRP technology or any depth probe compatible with the NMEA 2000 network. At the same time, if your boat is equipped with several fishfinders connected to the NMEA network, Quickdraw Contours automatically selects the best sonar to provide the best results.
Last but not least, the device allows you to recover all the waypoints of your old device even if it was a competitor branded device as long as the data was saved in GPX format.
Editor's Note
With this mid-range device, Garmin offers a complete range of technology in a compact case. Above all, thanks to its complete connectivity, your device becomes scalable and it is able to work with all the electronic devices on board as a true navigation center.
Specifications
| | |
| --- | --- |
| Kind of device | Sonar / GPS handset |
| Display size | 7.7" x 4.5" (19.6 x 11.4 cm) |
| Display technology | Multi-touch touchscreen WSVGA display |
| Display resolution | 1024 x 600 pixels |
| Touchscreen | Yes |
| Cards reader | 2 microSD cards |
| Connections | NMEA 0183 / NMEA 2000 / Ethernet |
| Video input | 1 BNC |
| Wireless Connections | Wi-Fi / Bluetooth / ANT |
| | |
| GPS | |
| Receiver | 10 Hz high-sensitivity |
| Antenna | Internal_or_external_over_NMEA_2000 |
| Waypoints | 5,000 |
| Routes | 100 |
| Track log | 50,000 points - 50 saved tracks |
| Map compatibility | BlueChart® Mobile (planning) compatible |
| | |
| Sonar | |
| Technology | CHIRP |
| Power | 1 Kw |
| Maximum depth | 2,000 ft |
| Probe | Double-beam - Double-frequency |
| Frequencies | 50 / 77 / 200 kHz |
| ClearVü | Yes (with external black box, sold separately) |
| SideVü | Yes (with external black box, sold separately) |
Price : Starting at $1,099.99 (USA)