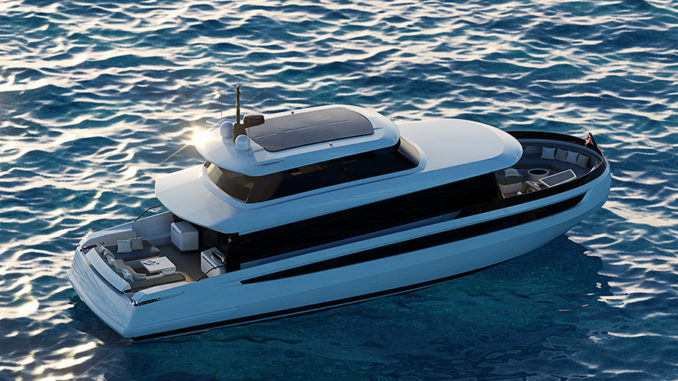 The MULTISPACE yacht Cetera 60 is based on a redistribution of the interior and exterior spaces through a process of VERTICAL REPOSITIONING. The result is a uniquely innovative YACHT CATEGORY with a revolutionary layout designed to enhance onboard liveability and deliver more available space while maintaining a high level of privacy.
AN ALL-NEW YACHT CATEGORY
Its main salon and three en-suite cabins are uniquely located on main deck
-Placing the cabins on the main deck means they are further away from the engines and generators and away from water lapping for more acoustic comfort. 
-Main deck offers higher position for better views and larger windows.
-2 VIP suites and 1 guest cabin w/twin beds have private bathrooms 
-Head height is 2m throughout with panoramic windows.
-Salon/dinette is placed forward for 180° sea views on three sides.
Cetera 60 has a forward and aft cockpit on main deck
-Double cockpit offers extra privacy when moored stern to.
-A central corridor connects the entire length of the yacht from bow to stern for safe and easy access, also for young children.
-Retractable swim platform with easy access from beach club-style cockpit.
-Tender garage and crane located under sofa/sunbed in aft cockpit.
Its "full upper deck" is accessible by interior staircase
-Convertible-style upper deck offers generous living/dining space for the astonishing number of 8 guests with large open-plan galley.
-Side and aft windows of the Cetera 60 can be opened or closed using innovative system.
-Openable overhead skylights for more natural light 
-Access from double-height lobby on main deck is by comfortable interior staircase.
-Wheelhouse offers excellent visibility, double pilot seats and day sofa.

Cetera 60 has technical areas and crew accommodation on the lower deck
–Engine room, crew cabin and all technical areas (pumps, batteries, air conditioning, hydraulics, switchboards, etc) are on the lower deck for easy access and optimal weight distribution.
-The forward crew accommodation with access from forward cockpit is far from the engine room for added comfort.
-1 crew cabin for 2 with separate shower
-Laundry.
"The MULTISPACE YACHT offers "stretching on board liveability" providing approximately 30 square metres more living space on the CETERA 60 than other yachts in her size category with traditional layouts,"says Francesco Guida. "Moreover, the clear division between the technical and living areas means the yacht can be built more quickly and efficiently, which is a cost saving that is meant to be passed on to the client."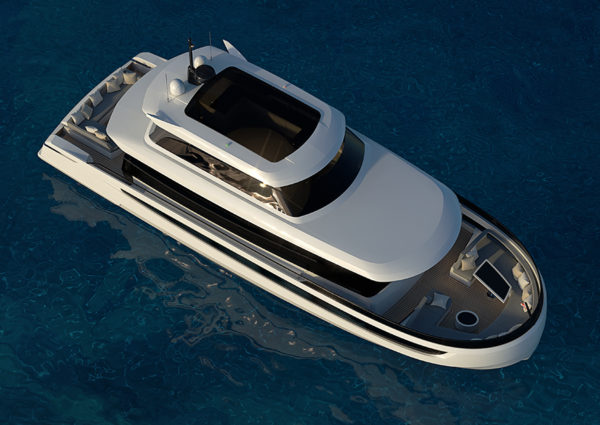 THE HULL #1 NOW UNDER CONSTRUCTION
"The main characteristics of the yacht may be summed up in the adjective 'easy': easy to live on board, easy to maintain, and also easy to build" says Ernesto de Bartolomeis, General Manager of Fiart Mare, where the first CETERA 60 is currently under construction. "When I first set eyes on the design, I immediately realized it was very different from what we typically produce at Fiart Mare, so we decided to set up a dedicated company to develop the product line. We really believe it represents something completely new for the market with features that will appeal to a wide range of international clients."
Powered by twin Volvo Penta IPS 600 units for outstanding manoeuvrability and power control, the CETERA 60 will have a top speed of 23 knots and a cruising speed of 20 knots. The first CETERA 60 will make her international debut in the spring/summer of 2019.