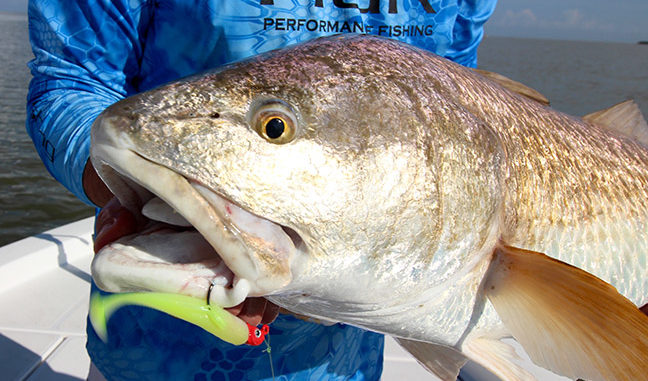 By Dr. Jason Halfen
Anglers grow by stepping out of their comfort zone, venturing to destinations that feature extraordinary, albeit unfamiliar, fishing opportunities. As a child of the upper Midwest, I cut my fishing teeth on walleyes and crappies, accented by the occasional brook trout or musky. However, as my fishing enthusiasm evolved into a career, I quickly realized that my own background represented an extraordinarily small piece of the global fishing puzzle. It was time to step out of my own comfort zone and explore more of what the fishing world has to offer.
My favorite adventure so far – the Louisiana gulf coast, where the Mississippi River meets the Gulf of Mexico.
This is an account of my first trip to the Mississippi River Delta in pursuit of bull redfish: The King of the Marsh. As I landed in New Orleans, I wondered if my lifetime of Midwestern fishing experiences had prepared me for my first casts into these fish-infested marshes.
For this first trip to the Bayou, I placed my trust in the hands of professionals: experienced guides seasoned by years spent in the marshes in pursuit of fish and game. My Captain for this redfish hunt was Terry Lambert from Cajun Fishing Adventures, a guide who embodied every characteristic I associate with the best anglers – a true instructor who taught me, pushed me, reveled in our joint accomplishments and more than once, made me laugh so hard that I had to put the rod down and simply enjoy the moment. For a beginner in the marsh, an experienced Captain is priceless.
We're not in Kansas anymore!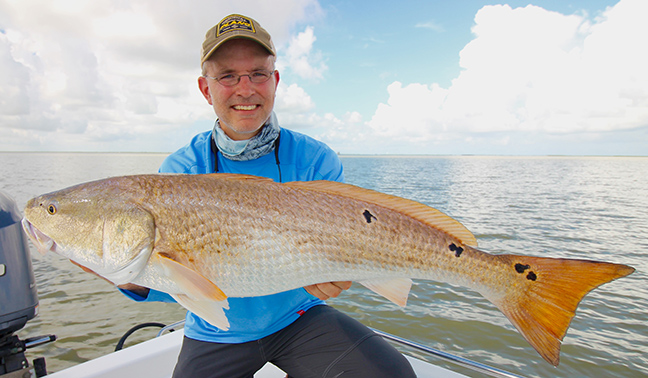 As Captain Terry backed his boat into the churning waters of the Mississippi River near Buras Louisiana, I quickly realized that the Mississippi of the south is not the same animal that I frequently fish in the north. The swirling currents and minimal water clarity found near the Delta stand in stark contrast to the well defined current seams that attract gamefish back home in Wisconsin, where a "chocolate milk" river would send us hunting for clean water before we ever cast a line. Down in the marshes, this is just another day at the office, a workplace where bull redfish are on the agenda.
We idled to our first location, a saddle between two marsh islands that was swarming with nervous baitfish, diving pelicans, breaching porpoises and an occasional whirlpool caused by a feeding bull red. Feeling the impact of the current, Captain Terry dropped tandem shallow water anchors to lock us in place against the incoming tide; class was now in session.
Our rigs would be deceptively simple: popping corks to create a surface commotion and support a suspended soft plastic offering beneath. We primarily tossed LIVETARGET Rigged Shrimp, incredibly realistic imitations of one of the preferred forage items for marsh bulls. We selected attention-grabbing colors like Hot Pink to help our finned targets find our offerings in the turbid waters, a process further facilitated by the subtle internal rattle in our LIVETARGET shrimp imitations.
Soft plastic minnows, like the Z-Man MinnowZ, were also responsible for a considerable number of redfish catches. Constructed from proprietary materials, ElaZtech baits resist cuts, nicks and tears, and boasts one of the highest fish-per-bait ratios among all soft plastic baits on the market.
We used Seaguar Pink Label 100% fluorocarbon leaders, selected not because of fluorocarbon's near-invisibility under water, but because of its remarkable abrasion resistance – a necessity in this demanding environment. These leaders were linked to our Seaguar Smackdown braided main line using a double Uni knot, a compact union that passes smoothly through the rod guides on the cast and is more than tough enough for chasing bull reds in the Louisiana marshes.

Bull reds from start to finish
The redfish hunters' most important fish-finding tools are their eyes. In the boat with Captain Terry, traveling to our destination or idling around a likely area, everyone's eyes were trained on the water's surface, searching for the telltale sign of bait in distress. Once positioned near a pod of bait being dissected by a saltwater apex predator, anglers cast their popping corks and tethered soft plastics into the killing zone. Often, a couple of quick "chugs" of the cork were all that was necessary to elicit a strike and that first powerful run characteristic of a hooked bull redfish. After a strong, sweeping hookset, the fight was on.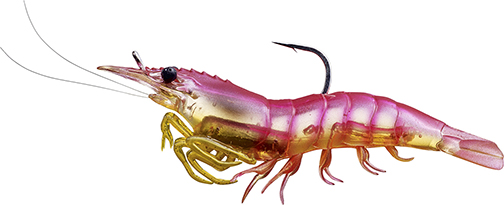 This is the realm of stout spinning gear, with rods typically 7 feet in length or longer to deliver relatively light baits on long casts, and to provide effective hooksets into bony mouths. The Legend Tournament Inshore series from St. Croix Rods are engineered to withstand the rigors of a wide range of inshore species, from speckled trout and snook to redfish and amberjack. The 7-foot, medium-heavy power, fast action LTIS70MHF spinning rod is an outstanding choice when pursuing bull reds. Pair this rod with a reel featuring a smooth drag system to counter the redfish's characteristic line-peeling runs, and you will be well-equipped for many years of trips to the marsh.
Once a tired bull red and the equally-winded angler converge, the fish is brought topside for a quick photo-op and subsequent release. Bringing a headstrong, 20-30 lb redfish aboard is a task reserved only for the most robust of nets. In Captain Terry's boat, Conservation Series landing nets from Frabill are the net of choice. Not only do these nets have the strength and longevity needed to handle season-after-season of bull redfish, but their knotless mesh netting eliminates damage to the fish caused by knots. Trophy bull redfish are too precious of a resource to damage during the landing and release process.

A perspective on the bull reds' future
After subduing an uncountable number of bull reds under the watchful gaze of Captain Terry, I decided that my forearms, shoulders and back had been sufficiently abused by the King of the Marsh for this day. As we navigated through the tangle of canals and bayous that separate the redfish grounds from the launch, Captain Terry lamented the loss of marsh habitat that occurs on a daily basis, caused in part by the capture of freshwater sediments in reservoirs far upstream, sediments that are desperately needed to replace marshland that is being washed out to sea. This is an unsustainable trend, with implications far beyond the redfish, or any of the millions of finned or feathered creatures that call the marshes home.
Get informed about this critical habitat issue, through an organization like Vanishing Paradise, and do something to help, so that the marshes' unique fishing opportunities will be here, and be better, for the generations that follow us.