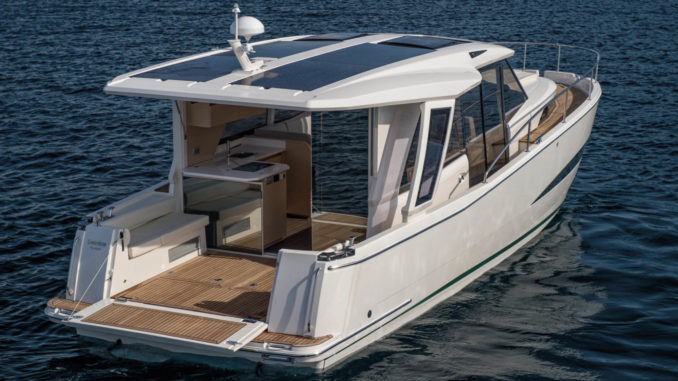 With the acquisition of the Greenline Yachts brand by SVP Yachts and Vladimir Zinchenko in 2015 the brand has been in a stabile growth trajectory ever since. Only in the past few months they have signed up four new dealers in Hong Kong, Hungary, South Germany on Lake Constance and Washington State, USA.
"We believe it is very important to work with strong partners in local markets. That is why we are looking to work with dealerships that are established and are able to hold stock boats to show their customers and offer good after sales service", says Luca Meffle, Head of Sales and Marketing at Greenline Yachts, adding "We are planning to sign up 10 new dealers by the end of 2018 and we are almost halfway there already. Since the acquisition in 2015 we have launched two models, the Greenline 39 and our current flagship, Oceanclass 65 and we have three new models on the drawing board with the prototype of the first one in line launching in May. We have commited to develop Greenline Yachts brand and our product range, that is why we are investing in new products and expanding our dealer network. Our key advantage in the market is the ability to offer fairly high level of customization for specific clients. That makes us interesting for certain dealers whose clientele generally has a bit more refined taste and are not keen on buying "off the shelf" yachts from known brands with high volume production".

In Europe
In Hungary, we are glad to announce the start of a cooperation with Royal Marina Kft. They are a strong partner with more than 15 years of experience in boat sales, service and charter. Royal Marina Kft. offer a full range of services to their customers at Balatonlelle and a sales office in Budapest.
In Southern Germany on Lake Constance Greenline Yachts will be represented by Ultramarin, the largest marina operator in Germany nurturing a long tradition of boating and water sports. The Greenline 39 will be presented at the Ultramarin Boat Show on May 4th to 6th 2018.
In USA
In Washington State, USA, Greenline Yachts will be represented by Ocean Trawler Yachts based out of Seattle in Washington State. Their office is conveniently located near downtown on South Lake Union. They have over 4 decades of experience in the marine industry and yacht sales. They are specialized in long-range trawler type yachts and are known for their excellent customer care service as their long-standing customers have been with them for over 30 years.
In Asia
In Hong Kong and Macau Greenline Yachts signed a contract with Greenline Yachting, Ltd.
The company will be taking care of the rapidly growing markets of Hong Kong and Macau. Greenline Yachts are taking Asian markets very seriously and are developing special features and layouts for the market. The first Asian Edition of Greenline 48 Fly will be delivered to Hong Kong in time for 2018 summer.