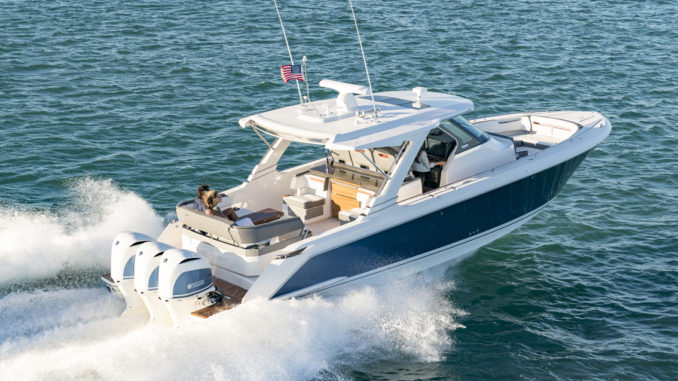 Tiara Sport unveiled a new outboard package from Volvo Penta and Seven Marine as a power option for the Tiara Sport 38 LS.
Tiara Sport is the first boatbuilder to bring to market this complete helm-to-prop solution that combines Volvo Penta's Electronic Vessel Control (EVC) and Seven Marine's outboards. The result is an unprecedented inboard experience with high powered outboard engines.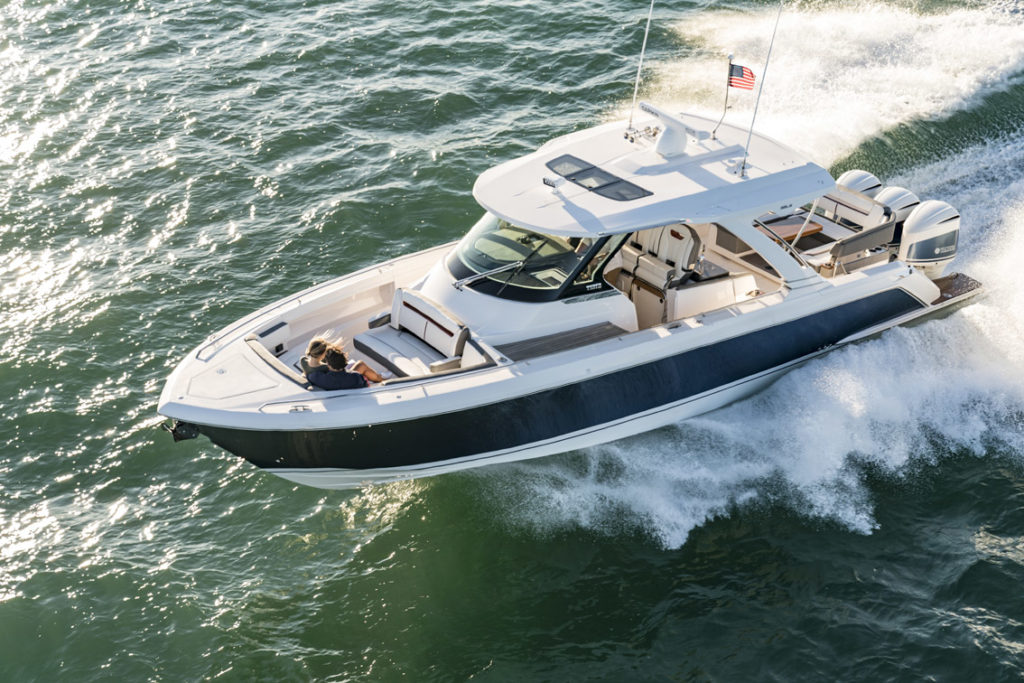 This optional package for the Tiara Sport 38 LS features twin Seven 527 6.2-liter V8 outboards with Volvo Penta DuoProp drives, packaged with a combination of Volvo Penta's Easy Boating features, including joystick driving and docking, enhanced helm station with Glass Cockpit, dynamic positioning, autopilot-joystick integration and Easy Connect remote connectivity, all tied together by Volvo Penta's EVC platform.
"Tiara has enjoyed a longstanding partnership with Volvo Penta, going back to 2004 when we worked together to package our Tiara Sport 38 LS with Volvo Penta's IPS system. This new package is not only a natural fit for our company based on our previous relationship with the team at Volvo Penta; it is also a perfect fit for our rapidly growing Tiara Sport brand," said Tom Slikkers, CEO and President, S2 Yachts, Inc.
Uncompromising Outboard Performance with an Inboard Experience Ron Huibers, president and CEO of Volvo Penta of the Americas and chairman of Seven Marine board, commented, "We are launching today with Tiara Sport the industry's first fully integrated system designed to propel bigger boats with outboard performance and inboard features. We're taking a giant step forward to push the boundaries on what is possible today in outboard technology."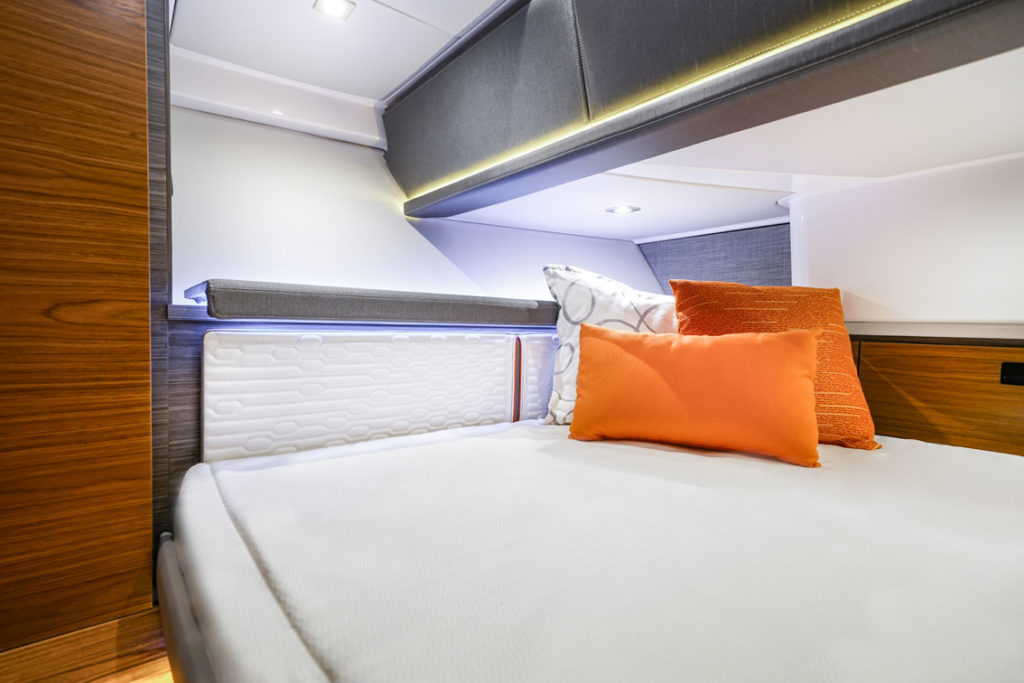 The integration of Volvo Penta's DuoProp system with Seven Marine outboards delivers the largest propeller blade area in the industry. The combination of DuoProps and Seven Marine's high-horsepower rating makes it possible to push larger and heavier boats more efficiently at all speeds. On the Tiara Sport 38 LS, the result is improved low-speed maneuvering and planing , faster time to plane, enhanced power and improved fuel efficiency across speed ranges. Additionally, the DuoProps dramatically reduce cavitation, even when running in rough seas.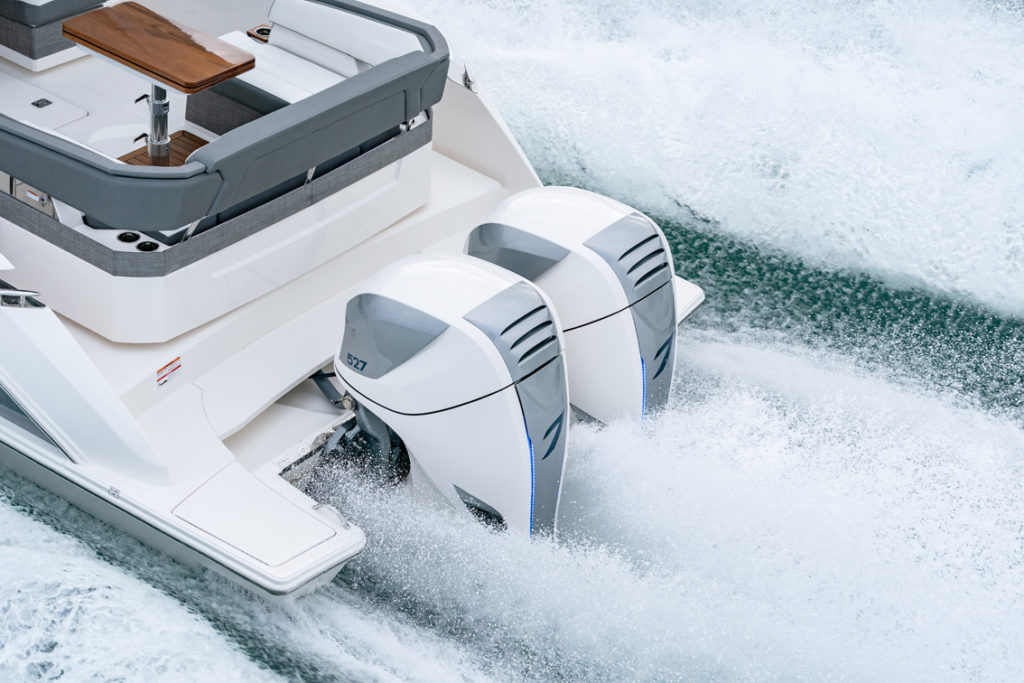 Easy Boating
"The Integrated Outboard Experience from Volvo Penta and Seven Marine is a key milestone resulting from our strategic acquisition of Seven Marine in 2017," Huibers said. "This is the next logical step in our ongoing technology journey at Volvo Penta to explore new designs, technologies and architectures that will transform the global marine industry. Our goal is to broaden our technology platforms and offer cutting-edge solutions, regardless of the energy source, to deliver the desired power in the water."
Specifications
| | | |
| --- | --- | --- |
| | Anglo-Saxon | Metric |
| L.O.A | 38'1" | 11,61 m |
| Beam | 12'6" | 3,84 m |
| Weight | 18,600 lbs | 8 437 kg |
| Building Material | Fiberglass | Fiberglass |
| Persons capacity | nc | nc |
| Bedding capacity | 2 | 2 |
| Fuel Capacity | 331 US Gal | 1 253 Litres |
| Water capacity | 50 US Gal | 189 Litres |
| Maximal power | 1,050 hp | 1 050 hp |
| Recommended Power | 900 hp | 900 hp |
| European Certification | B | B |