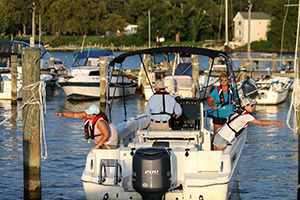 Learning how to drive a boat takes practice. That's not always an easy or affordable thing to do, according to the BoatUS Foundation for Boating Safety and Clean Water – especially if you've never owned a boat or have a professional instructor to show you the ropes. a good reason to take an On-Water Boat Training.
After completing a successful pilot program in 2018, the nonprofit Foundation and a host of key partners are giving new boaters, as well as current boat owners, the confidence, skills and much-needed practice behind the wheel with the official launch of the BoatUS Foundation On-Water Training Program. It offers a range of up to five, specially designed courses at 40 locations across the country in 2019, held in conjunction with local boat shows or as stand-alone weekend events at clubs, marinas and professional on-water training facilities.
"We asked ourselves, How do you get more people to enjoy recreational boating and improve their on-water safety and confidence?" said BoatUS Foundation President Chris Edmonston. "Traditional on-water boat training and skills development often isn't accessible. In many locations there simply are no course providers, and it's expensive and difficult to charter a boat and hire a captain on your own. We bring professional instruction to you in a format that doesn't chew up the whole day or your wallet, and provides a high-caliber, practical learning experience."
Introduction to Powerboating
"Course One: Introduction to Powerboating" and "Women Making Waves," each three hours long and taught aboard 20- to 26-foot single-engine powerboats, are offered at $149 and may include boat-show admission. While both introductory and women's courses offer the same curriculum, the ladies-only course is the perfect opportunity to spend half a day learning boat-handling techniques in a supportive environment. To continue the curriculum, there's also Course Two: Precision Docking and Boat Handling, Course Three: Open-Water Boat Handling, and Course Four: Open-Water Advanced Maneuvering.
All five On-Water Boat Training courses offer the opportunity to learn centering the wheel, shifting, steering and throttle control, stopping, station holding, understanding the "weathervane" effect and how to use "the boater's eye" technique to safely navigate. Class sizes are limited to four students per vessel, ensuring each student gets sufficient time at the helm under the watchful eye of a U.S. Coast Guard-licensed captain.
The first locations to announce hosting the training program in 2019 include the Miami International Boat Show, Feb. 14-18, Miami, Florida; Wharf Boat & Yacht Show, Mar. 29-31, Orange Beach, Alabama; In-Command Seamanship Training, Apr. 6-7, Wickford, Rhode Island; Bay Bridge Boat Show, Apr. 12-14, Stevensville, Maryland; Holiday Harbor Marina, Apr. 13-14, Acworth, Georgia; and Fleet Boat Club, June 8, Rochester, New York. The remaining slate of courses will be rolled out throughout the year.
We are fulfilling an important need
Edmonston notes that nearly 100 percent of pilot-program course takers reported they are likely to recommend a course to a friend, and about 90 percent plan on taking another hands-on boating course. "We've clearly hit a sweet spot and are fulfilling an important need for affordable and accessible on-water instruction," said Edmonston.
Curriculum was created by the National Safe Boating Council and approved by the National Association of Boating Law Administrators (NASBLA), the gold standards in boating safety education training.
Key partners, who generously provide training vessels and instructor training include Freedom Boat Club, National Marine Manufacturers Association, Annapolis Boat Shows, Annapolis School of Seamanship, In-Command Seamanship Training, Fleet Boat Club, Holiday Harbor Marina and Resort, Coastal Marine Management, and West Marine.
Freedom Boat Club President and CEO John R. Giglio said, "Freedom Boat Club supported the pilot project and we are excited for the official launch this program. Our goal is to ensure that all participants have a high level of confidence behind the helm and provide the basic tools to ensure their time on the water is safer and more enjoyable."
Getting people on the water to experience the fun of boating is an excellent way to create confident
"As one of the world's premiere boating events where boating enthusiasts from around the globe gather to view and buy thousands of the latest boats and marine accessories, the 2019 Progressive Miami International Boat Show is the ideal location for the official launch of BoatUS's on-water training program, said Thom Dammrich, president of the National Marine Manufacturers Association. "Getting people on the water to experience the fun of boating firsthand and learn the ropes from certified instructors, is an excellent way to create confident, educated and safe boaters and introduce people to the boating lifestyle."
Visit BoatUS.org/On-Water to sign up for any on-water training course from the BoatUS Foundation or search for upcoming courses in your area. If you have an organization that is interested in hosting training, send an email to OnWater@BoatUS.com.